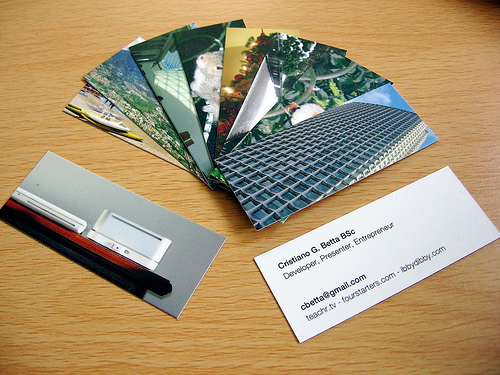 Remember how, in the old days, folks would call on others and, if they weren't at home, they'd leave their calling card behind?
Even in this highly electronic day and age, there's still room for business cards. But are you maximizing the use of your most basic calling card? And that's nothing more than your email signature.
We all suffer from email overload – I've long since stopped counting how many emails I get in a day. Even when I'm not working or on vacation, I use my BlackBerry to delete unnecessary emails from my inbox, in an effort to keep on top of the traffic (sigh, it never stops!).
But I also know that when I send an email out, it's a unique way to remind others of what I do, particular affiliations I have and things that are important to me.
Here are three tips to maximize your email signature as a marketing tool for yourself, your cause or your organization:
Proclaim yourself
1You normally include your contact information in your e-signature, right? Why not include hyperlinks to all the relevant data you think people should have access to? For example, these could be your website, blog or Twitter handle.
Job hunting? Make sure you include a link to your updated LinkedIn profile or VisualCV. Do you have a business to promote? How about linking to your Etsy site or another storefront?
If it's in your signature, it's right there for the recipients to click through to, yet you're not hitting them over the head with it.
Add a visual touch
2Go one step further and add some visual pizazz to your e-signature; and a terrific way of doing this is by using a program such as WiseStamp.
What's cool about this is that you can actually embed the hyperlinks rather than simply include them, and you can also include select social profiles such as Twitter, SlideShare, etc. at the bottom of your signature. For example, here's mine:

Put a shortening service to work for you
3Working on a special promotion? Use a URL-shortening service such as tr.im, bit.ly, ow.ly (or several others) to draw attention to it just above your signature block. For example, I used this as a way to raise funds around my birthday: "Why I'd like you to know how old I am: http://tr.im/K6Yi."
Granted, it's not often that a woman is proclaiming her age for all to hear, but if you use short but sweet copy and a dedicated URL, it's an easy way to add to your marketing mix with almost no effort.
What other ways do you use your e-signature "real estate" to market your own or your organization's brand? Please share by leaving a comment below.
Image at top: Cristiano Betta, Creative Commons BY
This is published under a Creative Commons BY NC ND license and originally appeared at Waxing Unlyrical.
Shonali Burke is VP Digital for the digital communications agency MSL, Washington, DC (and a former Socialbrite partner). Follow her on Twitter at @shonali.