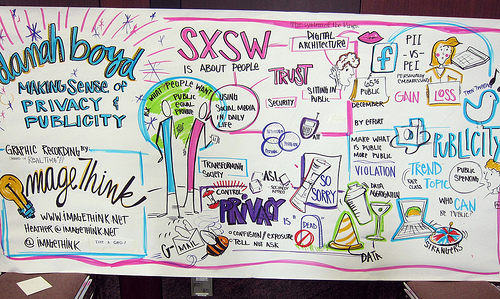 An ideas sketch on a whiteboard at SXSW Interactive 2010 (Photo by JD Lasica).
Planning for the month's top conferences & events

March is the real beginning of the 2012 conference circuit, with big events such as South by Southwest, the Skoll World Forum and the Washington Nonprofit Conference, kicking off today.
For the full year, see our Calendar of 2012 nonprofit and social change conferences. If you're interested in social media, tech and marketing conferences, see this month's calendar on our sister site, Socialmedia.biz.
If you know of other events, please share by adding the info in the comments below!
| | | |
| --- | --- | --- |
| March | | |
| TED | Feb. 27-Mar 2 | Long Beach, Calif. |
| From dazzling technology and leading-edge science to the richest veins of human creativity and interconnection, TED 2012 will display remarkable speakers, new uses of music, extravagant use of underused senses, intricate choreography between speaker and screen, new ways of involving the audience, breakthroughs in animation, intense, campfire-style storytelling and some "spectacular surprises." | | |
| TEDActive | Feb. 27-Mar 2 | Palm Springs, Calif. |
| TEDActive is an opportunity to let your mind travel the world of ideas while watching the live-hosted TED 2012 program on screen in a comfortable, customizable space. When the talks are over, your conversations with other passionate people begin — a chance to engage in inspiring discussions and projects. | | |
| Washington Nonprofit Conference | March 1-2 | Washington, DC |
| Need a fresh perspective on fundraising? At this conference, you'll learn innovative strategies and creative approaches to fundraising that will help you identify and develop new initiatives for your programs, as well as how to increase donations. You'll find more than 30 educational sessions, a keynote presentation and roundtable discussions so that you're able to pick and choose from topics that best offer solutions to your challenges. | | |
| SXSW | March 9-18 | Austin, Texas |
| South by Southwest offers an amazing gathering of thought leaders in independent music, independent films and emerging technologies. Fostering creative and professional growth alike, SXSW is the premier destination for discovery. | | |
| Left Forum | March 16-18 | New York |
| A one-of-a-kind gathering, Left Forum convenes the largest annual conference of a broad spectrum of left and progressive intellectuals, activists, academics, organizations and the public. Conference participants come together to engage a wide range of critical perspectives on the world, to discuss differences, commonalities and alternatives to current challenges and to share ideas for transforming the world. | | |
| eCampaigning Forum | March 21-22 | Oxford, UK |
| In the 10th annual eCampaigning Forum, you'll learn about e-campaigning from the people who do it and share effective strategies and practices with peers. | | |
| The Social Enterprise Exchange | March 27 | Glasgow, UK |
| This event will create plenty of opportunity to exchange best practices and information on a number of topical themes including social enterprise policy, growth and replication, starting a new business, winning business, social investment, subcontracting and impact measurement. | | |
| Skoll World Forum | March 28-30 | Oxford, UK |
| The Skoll World Forum on Social Entrepreneurship is the premier international platform for advancing entrepreneurial approaches to solving the world's most pressing problems. Their mission is to accelerate the impact of the world's leading social entrepreneurs by uniting them with essential partners in a collaborative pursuit of learning, leverage and large-scale social change. About 800 hand-selected delegates from the social, finance, private and public sectors convene for three days and nights and attendees representing nearly 65 countries participate in critical debates, dedicated networking events, self-organized sessions, small group workshops and compelling panel and plenary sessions. | | |
| Clinton Global Initiative University | Mar 30-Apr 1 | Washington, DC |
| This fifth annual gathering will bring together students and national youth organizations to create and implement Commitments to Action across five Focus Areas: Education, Environment & Climate Change, Peace & Human Rights, Poverty Alleviation and Public Health. | | |
JD Lasica works with nonprofits, social change organizations and businesses on social media strategies. See his profile, visit his business blog, contact JD or follow him on Twitter or Google Plus.


This work is licensed under a Creative Commons Attribution 3.0 Unported.