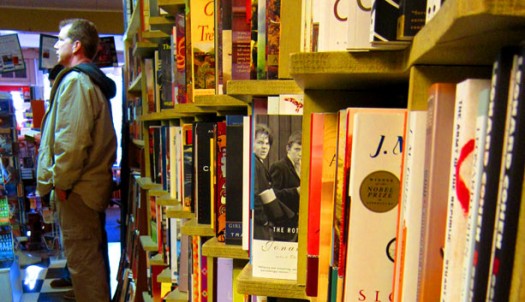 Where to find nonprofit, independent & progressive booksellers

Most of us in the philanthropic and social good communities face the recurring question: Where should I buy my books — online or in the local community? And: How much more am I willing to pay to buy from an indie publisher or a green publishing house?
Let's begin with offline. For the socially conscious, buying at a local store is preferable because it keeps money in the local community, supports independent enterprises and reduces your carbon footprint. There are a number of sites that make it easier to find and support local independent bookstores, where you can thumb though good old-fashioned print books. Chief among them:
• IndieBound.org: Find bookstores and other independent retailers near you. Says Indiebound: "Spend $100 at a local and $68 of that stays in your community. Spend the same $100 at a national chain, and your community only sees $43."
• BookWeb.org: Search for a brick-and-mortar bookseller in your community that belongs to the American Booksellers Association.
Other book resources:
• WorldCat: Search for a book title at your local library.
• Bookshare provides accessible books and periodicals for readers with print disabilities.
10 socially conscious online bookstores
While buying a print book locally is a commendable approach, it's not always possible in practice. Some communities don't have local bookstores, so buying from an online retailer may be your only real option. In the past few years, socially conscious online bookstores have come into their own. Better World Books, Good Books and Chelsea Green are a few of our favorites. We know there are others out there, so please share your favorites in the comments!

Better World Books: Supporting global literacy
1Founded in 2002 and now boasting more than 1.5 million customers, Better World Books takes in used books from schools, libraries, students — anyone with old books — and resells them online at low prices. A triple bottom line company and a founding B-Corporation, Better World Books donates a portion of its profits to 80+ nonprofit literacy development programs around the world as well as local libraries — they've donated $9 million so far, and they've reused or recycled 40 million books to date. The company, which employs about 200 people, offer a 100 percent money-back guarantee and ship worldwide for free in a "climate-neutral" way. In May 2009, Business Week readers voted for Better World Books as the best U.S.-based social enterprise that is both making a difference and earning a profit. Follow @bwbooks on Twitter.
Sample title: The Ecology of Commerce, by Paul Hawken ($4.48 paperback, plus shipping). We've found Better World Books to be most valuable with older titles.