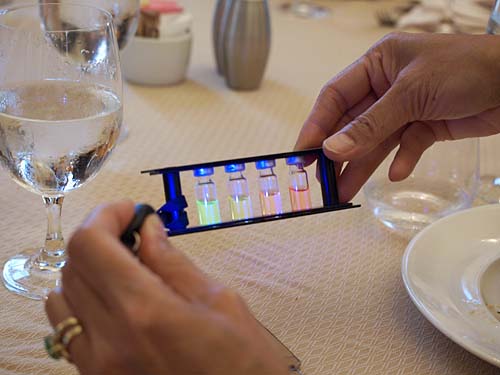 Photo by Salem Kimble
By Salem Kimble
East Bay Green Tours
Earlier this month, amid the picturesque backdrop of the Cavallo Lodge in Sausalito, Calif., a flurry of venture capitalists and industry innovators came together at the GoingGreen Conference from AlwaysOn. There were all manner of industries represented, from cement that absorbs carbon (Novacem) to low frequency wireless technology for long range monitoring (On-Ramp Wireless) to completely architected materials (Nanosys) and everything in between.
In fact, there was so much going on, let's break down a few of the more intriguing elements.
Smart designs for buildings
Project Frog, a slick and friendly outfit from San Francisco, showed off their super quick building construction from partially pre-fabricated buildings that minimize waste during construction, save 50 percent in energy once built, and go up in an incredible six weeks' time. Their smart designs take into consideration the building process and include things like designing doors and walls to fit the size that the wall material is when sold. Their flagship installation is at Crissy Field in San Francisco.
Buildings are important, but perhaps more intriguing are the people who are re-engineering the building blocks themselves, as Novacem has done. They have an alternative to Portland cement (standard material used in the majority of construction) that has a lighter carbon footprint at the outset and over the long term. Says Novacem's Stewart Evans, "The big win is that Novacem has the potential to not only remove the 5 percent [of carbon] from creation [of the cement] but to take out 4 percent of carbon [from the atmosphere] over time." Continue reading →