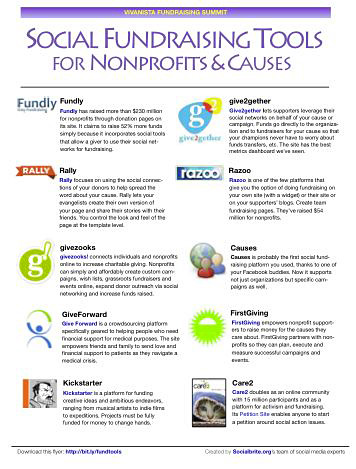 At the Vivanista Charitable Fundraising Summit and Bootcamp, held Saturday in San Francisco, Janet Fouts and I closed out the afternoon with a wide-ranging conversation with nonprofit representatives in the audience about social media tools and strategy.
The night before the summit, I put together a one-page color flyer in the visually pleasing style that has characterized these handouts from Socialbrite. Social Fundraising Tools for Nonprofits & Causes (a PDF found at bit.ly/fundtools) lists 10 platforms for raising funds, including:
• Stalwarts like Fundly, Razoo and Causes
• Relative newcomers like Rally and give2gether
• GiveForward, a new platform to help people who need financial support for medical purposes
And others. Be aware that your mileage may vary with some of these platforms — they differ not only in pricing but in placement (your site or theirs), effectiveness with social networks, metrics dashboards and rules governing data ownership.
We're releasing the flyer under a Creative Commons Attribution Noncommercial license, like others in this series of handouts:
• 40 hashtags for social good
• 12 steps to mobilize your cause
• 10 iPhone apps for social good
• 12 social action hubs
Video of sessions coming soon
After a full day of sessions, the give and take turned out to be a good way to wind up the summit, held at the San Francisco Art Institute (following a wonderful reception the evening before at the 12 Gallagher art gallery). Questions covered a range of topics, but many centered on internal processes and expectations. For instance:
Q: What do you say to an executive or department chief who insists on hitting certain milestones, such as 1,000 Twitter followers within six months of launch?
A: That's the wrong metric to emphasize. You can get 10,000 followers within six months, but they won't be worth much. The quantity of raw followers is less important than the quality — even a few dozen followers can be more useful if they're passionate and committed to your cause. In the end, what matters isn't the size of your following in social media but whether those people are taking actions in the real world to advance your mission. Continue reading →