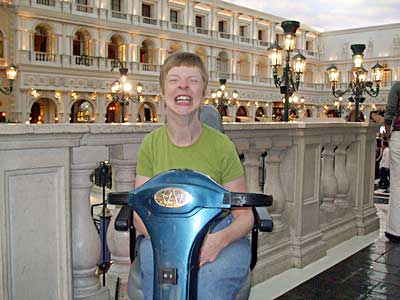 Glenda Watson Hyatt, who blogs at Doitmyselfblog.com ("Your Accessibility Conscience"), gave an extraordinary presentation here at the SOBCon, Business School for Bloggers, talking about how to make websites and blogs more accessible to the disabled. It took her three months to perfect her presentation. I conducted a video interview with her that I'll post here soon.
You can download her free How POUR is Your Blog? Tips for Increasing Your Blog's Accessibility and discover how accessible your blog truly is. (You will need Adobe Acrobat Reader to view the ebook.)
Here are her 7 Tips for Communicating With People With Disabilities:
1. Speak directly to the person rather than through a companion or sign language interpreter.
2. Offer to shake hands with people who have limited hand use or who wear an artificial limb is appropriate.

3. Identify yourself and others who may be with you when meeting a person who is sight impaired.