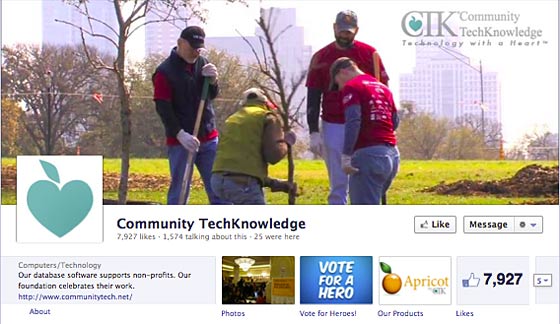 How one foundation increased Facebook fans by 1000% in 13 days
Target audience: Nonprofits, foundations, NGOs, social enterprises, cause organizations, brands, businesses, Web publishers.

Afew weeks ago, Facebook announced that Facebook was doing away with Welcome pages. As with most changes that Facebook makes, the people who hate change were very upset.
The assumption was that fan gating would be less effective. (Fan gating refers to the digital welcome mat that organizations put out to attract new fans. Some nonprofits and businesses display certain content or contests only to users who like your Facebook page, inducing newcomers to "unlock" the content behind the tab.)
But the critics are wrong. Strategy will always trump technology, and the only real limitation is simply a lack of creativity.
For example, Community TechKnowledge increased their Facebook Page fans almost 1,000 percent in 13 days by having Facebook users like their Page to vote for a nonprofit hero. Continue reading →