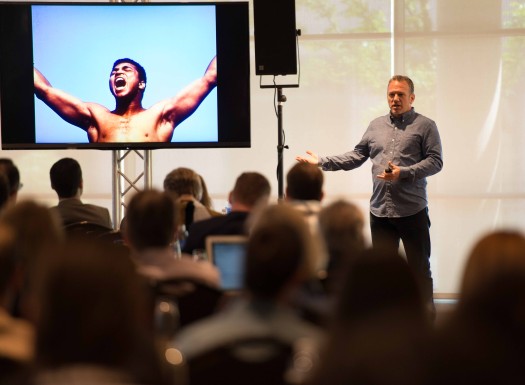 Thoughts from Erwin Penland's Food For Thought Conference (photo of Scott MacEachern by Amy Randall/Erwin Penland)
Target audience: Nonprofits, cause organizations, foundations, NGOs, social enterprises, marketers, managers, general public.
We talk a lot about the newest ways to connect with our supporters and donors, all the latest digital marketing trends and apps that are aimed to engage, build community and inspire. But one of the things we don't talk about that much is vulnerability and the inherent power that it has over getting a story to stick and helping to build trust, loyalty and openness in our digital communities.
I recently attended Erwin Penland's seventh annual Food For Thought conference in Greenville, South Carolina. Food for Thought is an "unconventional convention" that celebrates the intersection of creative thinking, digital marketing, entrepreneurialism, social responsibility and food. The three-day conference brings together some of the country's leading entrepreneurs, innovators, thought leaders and chefs.
One of the things that really stuck with me is how many of the presenters courageously shared personal and professional stories, and came from a place of deep vulnerability in front of their audience. It was arresting, surprising and deeply engaging. You could hear a pin drop during many of the presentations. Not your typical plenary, to be sure. I couldn't stop thinking about these presenters and their stories; their stories somehow became my stories. It made me want to learn more about them and share what I had learned with others. Continue reading →