A look at the growing phenomenon of social media fundraising
Target audience: Nonprofits, NGOs, cause organizations, fundraising executives, social media managers, donors.
This article is part of our series on social fundraising.


I've been looking forward to the promise of "social media+fundraising" for a while now. There are plenty of fundraising solutions that leverage social media, relying on fundraisers to tweet, share, and post their fundraising pages to their social networks. There are also fundraising solutions that fully rely on and live within a social platform, such as a Facebook fundraising application or a fundraising widget you place on your blog. Then there is the newest evolution: fundraising that innately uses social media as a platform.
In the slide presentation above, I review the three categories of social media fundraising and my thoughts about how social media fundraising has finally arrived in a real way.
Sharing is huge
A report from Share This states that sharing generates more than 10% of all internet traffic. In order of frequency, most people click on links shared within Facebook, followed by "other" (blogs, social bookmarking, etc.), email, and Twitter. Facebook is the largest sharing channel, at 38%, which is why so many online fundraising pages are shared and shared again on Facebook.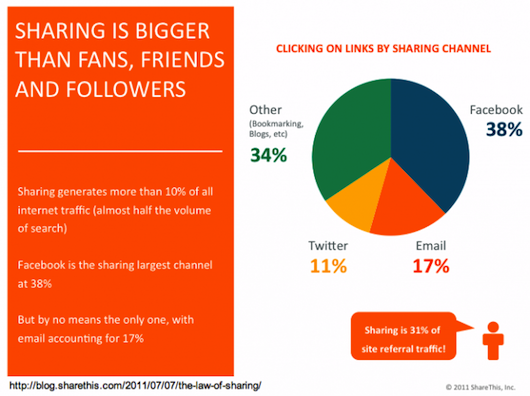 Social fundraising is growing
By all definitions, online fundraising is growing. Social fundraising is also growing. Network for Good's online giving study's quarterly giving index illustrates that, despite the current poor economic outlook, social giving is still rising. In Q1 and Q2 of 2011, social giving increased (though Q1 giving may have been skewed by Japan tsunami relief fundraising). The 2011 Nonprofit Social Network Benchmark Report of US nonprofit social media fundraising reports that Facebook is the social media platform most nonprofits are using if they are participating in social media fundraising, though it is still a very small percentage who have raised significant money using Facebook.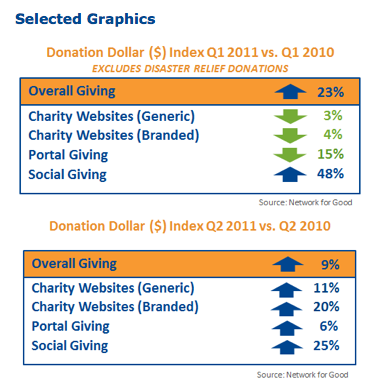 Social sharing of fundraising pages yields results: Social media fundraising that leverages social networks
When fundraisers share their fundraising pages to their social networks, giving increases. Blackbaud recently issued a report and created an infographic about the power of peer-to-peer sharing. Blackbaud found that Twitter and Facebook posts convert 0.25% of impressions into donations. It also found that Twitter users increased donations nearly 10x more than those who did not use Twitter. FirstGiving found that for every share to Facebook, 5 people returned to a fundraising page. FirstGiving also found that the value of a share to Facebook was worth $10.87 in donations.
Peer to peer online donation solutions (such as FirstGiving, Razoo, Crowdrise, Donors Choose) where a fundraiser creates a fundraising page and shares that page are increasingly being used by nonprofit organizations, and the culture of online donations is growing. Sometimes these solutions are also called social media fundraising, because they rely so heavily on social media for amplification. These solutions are ideal for leveraging an organization's base, and increasing donations through personal social network sharing. However, it's just as important that the nonprofit also have a vibrant social media presence to amplify these efforts and engage with fundraisers.
Giving that relies on or lives exclusively within a social network
Social media fundraising can also be defined as fundraising that happens within a social network, rather than shared to the network. Most examples of these fundraising solutions live within Facebook. Examples include Causes, the What Gives or FirstGiving fundraising tabs that you can add to a Facebook page or profile, fundraising applications developed for a Facebook Page. These fundraising solutions rely on Facebook to thrive: You have to connect using Facebook, and they count on fundraisers sharing with their Facebook friends for amplification. Other examples include Google Checkout for nonprofits on YouTube or fundraising widgets placed on a blog. This type of fundraising is growing, but certainly is not mainstream, and best used where you have a fair number of supporters and know you can energize them. Continue reading →