"Protect Our Defenders," winner of the DoGooder Nonprofit Video Award among small organizations.
At NTC, expert advice on best practices in telling your nonprofit's story
Target audience: Nonprofits, foundations, NGOs, social enterprises, cause organizations, brands, businesses, Web publishers, educators, video producers, storytellers.

If there was one buzzword at last week's Nonprofit Technology Conference, it was storytelling. On Wednesday Debra Askanse wrote about our Future of Storytelling panel. And there were at least two or three other sessions about nonprofit storytelling.
One of the most informative was the session "Sight, Sound, and Motion: Video Storytelling and Using Video for Advanced Messaging" put on by Michael Hoffman and Danny Alpert of See3 Communications, which works with nonprofit clients to create compelling video stories.
Michael and Danny offered these tips on how to make your visual story work — and I'll second all of these recommendations, since I know a little about video production.
Choose one message
1Here's one of the biggest shortcomings of far too many videos. Settle on a single message — not three, not two. One. You don't need to cram your organization's entire message into a single video. Be selective. The more messages you include, the more muddled it becomes. Marketing folks have lived by this rule for decades.
Decide who you're trying to reach
2You're creating your video for a reason, right? It's not to communicate to your staff. Or even to the public. "There's no such thing as the general public," Michael said. Target your audience and speak to them. Frame the story in a way that touches and appeals to those people.
Decide what you want them to do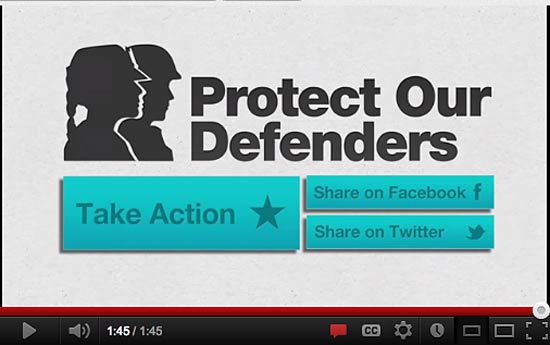 3After you grab people's attention, what is your call to action? You want to gently but forcefully direct viewers to take a specific action on your behalf. "How realistic is the ask?" Michael said. He pointed to YouTube annotations (see our article How to effectively use calls to action in nonprofit videos) as a great, underutilized mechanism to make your call to action crystal clear — in text form that pops up during the video. "Every one of you should be using annotations in your video in some way."
One video with a great call to action — Protect Our Defenders (shown at top, with screen grab immediately above) — won this year's Nonprofit Video Award in the small organization category for best use of video for the social good. At the end of the 1:45 video you'll see a way to take immediate action, transporting viewers to the petition page or letting them share it on Facebook or Twitter. (This gets a little technical: You add 15 to 20 seconds at the end of the video with these "buttons" hot-linked to your pages; only certain kinds of software can pull this off.) Continue reading →