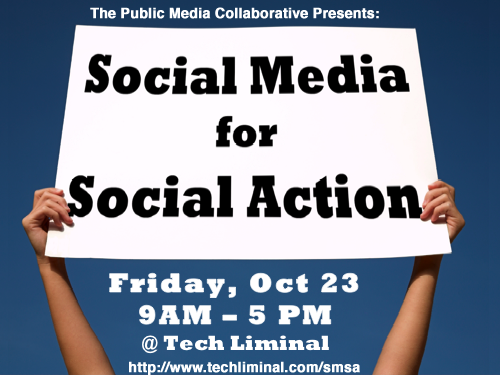 And a day of workshops devoted to blogging best practices

I'll be among the trainers on hand on Oct. 23 for Social Media for Social Action, a day of training and workshops geared especially for Oakland nonprofits and community organizations.
Interested in blogging, Twitter, Facebook & other social media tools for your organization, but not sure how to measure results, plan a campaign, or whether you have the time? Start here: Join us for a day of high-quality, low-cost workshops tailored to your needs.
Look for a full day of workshops led by a team of social media and multimedia experts from Public Media Collaborative, Spot.us, Oakland Local, Socialbrite.org, The Center for IndyMedia and Newsdesk.org.
When: Oct. 23 (a Friday), all day
Where: Tech Liminal, 268 14th St., Oakland (510) 832-3401
Cost: $10; no one turned away for lack of funds
Register: On Eventbrite or purchase your ticket on the Techliminal site
Volunteer: [email protected]
East Bay blogging workshop
The following day, it's the Return of East Bay Bloggers.
Get together with other East Bay bloggers for a day of workshops, meetups and talk. Learn hands-on skills with multimedia, talk about growing your community, and ponder making money. Join us in knitting our communities together and celebrating individual voices in the East Bay! Continue reading →