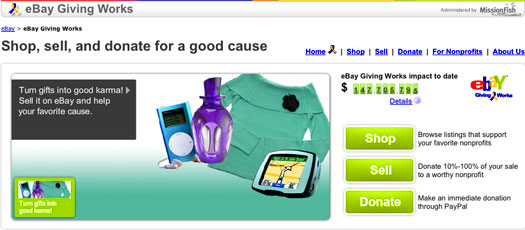 eBay shoppers donated $50 million to nonprofits in 2009 — a record

Right before the holidays, eBay released 2009 figures for its Giving Works fundraising program — and marked a historic record for total funds raised for non-profits through ebay.com. According to the report, the eBay community gave $50 million to nonprofits, a 17% jump over 2008 despite the ongoing recession. The program allows individuals to donate while using eBay.
I was lucky enough to do a quick email interview with Robert Chatwani, eBay's head of Global Citizenship, to learn more behind the numbers.
1. Give me your elevator pitch
At eBay, we think about citizenship and sustainability in terms of People, Planet, and Communities. Our focus is on harnessing the reach and scale of our core businesses – eBay and PayPal – to create a positive impact. By fostering entrepreneurship for global sellers, keeping goods out of landfills through the sale of pre-owned products, and raising funds for nonprofits through sales on eBay, we're growing our business and enabling millions of eBay users to participate by voting with their dollars. Plus we have 15,000 employees around the world who get to think about changing the world through their everyday work, which is really exciting. Continue reading →