Here's a simple guide to getting started in 5 easy steps
Target audience: Nonprofits, social change organizations, businesses, educators, citizen publishers, individuals. This is part of Creating Media, our ongoing series designed to help nonprofits and other organizations learn how to use and make media.
Guest post by Azin Mehrnoosh
Founder, HiDef
Facebook isn't just a potential market that many nonprofits haven't yet tapped. It's also a place for real-time personal conversation and feedback from your constituents. You shouldn't treat it trivially, but you shouldn't be afraid of it, either.
Many posts emphasize the need to get started on Facebook and offer a long list of tips. Those lists can be quite daunting, so in this post we'll help you get up and running from ground zero — nice, easy and simple.
To start off, you should already have a personal Facebook account and be logged in. Don't worry, you're not going to share any of your personal information. Facebook just needs an administrator for your organization's new Facebook Page, and you can do that via your personal account. You can add other administrators later.
Now, if you're already familiar with Facebook for personal use, you'll quickly notice how similar creating a Page for your organization is to your own Facebook profile. Most of the functions — like uploading pictures, posting updates, updating your organizational bio — are almost exactly the same.
Let's get started!
Create an official Page
1For this step, navigate to http://www.facebook.com/page.
Note: Don't create a "Community page." Those are used for creating communities around ideas that don't necessarily represent anything tangible.
Select your page type, give it the name of your organization, click the terms and conditions checkbox, and click "Create Official page." It's that simple.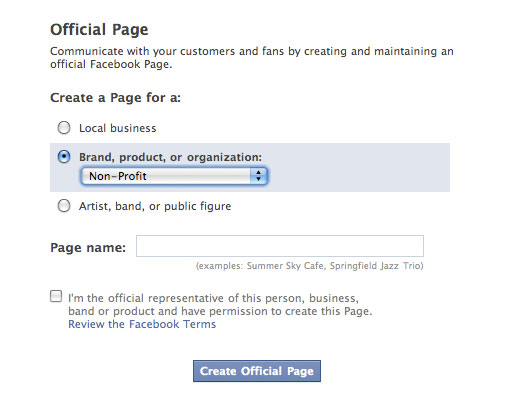 Now you'll do some configuration before you promote it to the world.
Upload a logo or image for your organization
2Make sure you have your logo or a clearly identifiable branding image that your potential Facebook fans will be able to draw lasting connections with. It's important that this image match up with your website and even print materials. Photos of people are often more effective than a logo — sometimes you can incorporate the logo at the bottom of the image.
Put your mouse over the big gray "?" image and click "Change Picture." Upload your logo or image by selecting one of the upload options. Continue reading →