Guest post by Josh Catone
Mashable
This post is a collaboration between Mashable's Summer of Social Good charitable fundraiser and Max Gladwell's "10 Ways" series. The post is being simultaneously published across more than 100 blogs.
______________________________________________



Social media is about connecting people and providing the tools necessary to have a conversation. That global conversation is an extremely powerful platform for spreading information and awareness about social causes and issues. That's one of the reasons charities can benefit so greatly from being active on social media channels. But you can also do a lot to help your favorite charity or causes you are passionate about through social media.
Below is a list of 10 ways you can use social media to show your support for issues that are important to you. If you can think of any other ways to help charities via social web tools, please add them in the comments. If you'd like to retweet this post or take the conversation to Twitter or FriendFeed, please use the hashtag #10Ways.
1. Write a Blog Post
Blogging is one of the easiest ways you can help a charity or cause you feel passionate about. Almost everyone has an outlet for blogging these days — whether that means a site running WordPress, an account at LiveJournal, or a blog on MySpace or Facebook. By writing about issues you're passionate about, you're helping to spread awareness among your social circle. Because your friends or readers already trust you, what you say is influential.
Recently, a group of green bloggers banded together to raise individual $1 donations from their readers. The beneficiaries included Sustainable Harvest, Kiva, Healthy Child, Healthy World, Environmental Working Group, and Water for People. The blog-driven campaign included voting to determine how the funds would be distributed between the charities. You can read about the results here.
You should also consider taking part in Blog Action Day, a once a year event in which thousands of blogs pledge to write at least one post about a specific social cause (last year it was fighting poverty). Blog Action Day will be on October 15 this year.
2. Share Stories with Friends
Another way to spread awareness among your social graph is to share links to blog posts and news articles via sites like Twitter, Facebook, Delicious, Digg, and even through email. Your network of friends is likely interested in what you have to say, so you have influence wherever you've gathered a social network.
You'll be doing charities you support a great service when you share links to their campaigns, or to articles about causes you care about.
3. Follow Charities on Social Networks
In addition to sharing links to articles about issues you come across, you should also follow charities you support on the social networks where they are active. By increasing the size of their social graph, you're increasing the size of their reach. When your charities tweet or post information about a campaign or a cause, statistics or a link to a good article, consider retweeting that post on Twitter, liking it on Facebook, or blogging about it.
Following charities on social media sites is a great way to keep in the loop and get updates, and it's a great way to help the charity increase its reach by spreading information to your friends and followers.
You can follow the Summer of Social Good Charities:
Oxfam America (Twitter, Facebook, MySpace, Flickr, YouTube)
The Humane Society (Twitter, Facebook, YouTube, MySpace, Flickr)
LIVESTRONG (Twitter, Facebook, MySpace, YouTube, Flickr)
WWF (Twitter, Facebook, YouTube, Flickr)
4. Support Causes on Awareness Hubs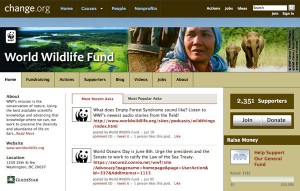 Another way you can show your support for the charities you care about is to rally around them on awareness hubs like Change.org, Care2, or the Facebook Causes application. These are social networks or applications specifically built with non-profits in mind. They offer special tools and opportunities for charities to spread awareness of issues, take action, and raise money.