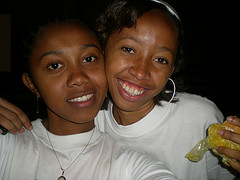 Last year, I was involved in discussions with several organizations — and received a grant from the Center for Social Media — to research a proposal to launch a series of Social Media Innovation Camps around the country (and eventually the world).
In the past year, Social Media Bootcamps have begun to sprout up all over, some of them from marketing organizations, others by well-known public-spirited not-for-profits like Social Media Club, which has been a pioneer in this field, and the series of Europe-based NESTA-funded Social Media Innovation Camps, with plans for a camp in Brisbane, Australia, in March 2010.
Meantime, I recently co-presented a social media workshop for 10 daily newspapers at the Knight Digital Media Center, and I'm giving (with David Cohn) a Social Media Bootcamp for ethnic media publishers at Seize the Moment at San Francisco State on Aug. 28, as well as other workshops later in the year.
With that preface, I'm reproducing here (and taking down from Zoho) a Foundation Proposal that we developed — but never sent to any foundations — so that if any interested parties happen to come across it, you can contact us for more information. I still believe the idea has a great deal of merit (though would revise the project in several areas), and that a series of traveling Social Media Innovation Camps can be especially useful to the nonprofit community.
To: Foundation(s) to be named
Applicant: Socialbrite
Organizations we've consulted with on this proposal:
• Center for Future Civic Media at MIT
• Society for New Communications Research
• Institute for Civic and Community Engagement at San Francisco State University
• Social Media Club
• Berkman Center for Internet and Society at Harvard University
• Center for Citizen Media
• Media Giraffe Project at the University of Massachusetts
• Center for Renaissance Journalism at San Francisco State University
• Ourmedia.org
Contact: J.D. Lasica (jd at socialbrite dot org)
Duration of project: 1 year, then self-sustaining
Description of project: Nationwide series of educational bootcamps focused on increasing civic engagement through social media. The effort is undergirded by an online community of social media mentors and a resource center for social media, online curricula and peer-to-peer learning.
Geographic area served by project: The plan targets 10 cities and communities in the United States in the first year. We intend to expand after that to Canada, Mexico and Europe after additional funding is secured from corporate sponsors.
Beneficiary groups targeted: Independent and ethnic media makers; NGOs and nonprofits seeking to take up the tools of social media; publishers of citizen media, community news and hyperlocal news sites; college and university educators; K-14 educators involved in traditional schools and in after-school programs; public broadcasters; newspapers and broadcast news organizations seeking to deploy tools that enable community participation; and citizens seeking to contribute to the community.