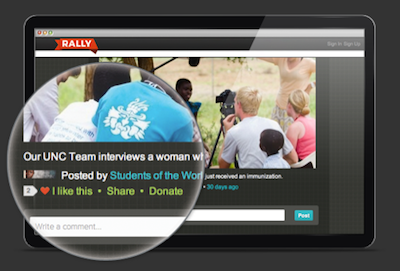 Target audience: Nonprofits, NGOs, cause organizations, fundraising professionals, social media managers, cause supporters.
This is Part 6 of our series on social fundraising. See below for other articles in this series.

If you're a nonprofit looking to raise funds online or an individual looking to support a favorite cause, there's a new kid on the block you should know about: Rally. Rally is an online fundraising platform that helps causes raise money faster, easier and in a more social way.
Following in the tradition of Causes, Give2gether, Fundly and other social fundraising services we've been writing about in this series, Rally brings some impressive things to the party: a sleek, streamlined interface, a simple business model and a platform that will soon be open to anyone who wants to support a cause. We wrote about Rally in Social fundraising tools: Our top 5 picks.

The platform is currently restricted to beta testers, like Students of the World, which raised an impressive amount of money in a few weeks, but is expected to open up to everyone this fall. Rally will be for anyone — nonprofits, foundations, political campaigns, churches, sports teams, neighborhood improvement efforts, filmmakers creating a documentary — looking to leverage social media on behalf of a bigger idea. We'll update this article when Rally flings open the doors wide.
Check out the Students of the World page on Rally to see what it's all about. Students of the World is a nonprofit that helps other nonprofits tell their story through video and photography, and they achieved success on Rally by interacting with their supporters with photos, videos and conversation.
I recently visited the San Francisco headquarters of Rally — where they also host the "RallyPad" incubator space for fledgling startups — and interviewed Kaitlyn Trigger, Rally's director of marketing.
Watch, download or embed the video on Vimeo
Rally is for nonprofits looking for a new revenue stream, Kaitlyn says, but it's also for any person looking to raise funds to build a neighborhood playground or to raise money to support a friend with a medical condition.
"We know that one of the most powerful ways to get people to donate money is to have a friend ask them," she says. "It's the Uncle Joeys and Aunt Lucias of the world. When they tell family and friends about a cause they deeply care about, they're going to respond much more generously than if an organization makes that ask."
Rally has no monthly charges, no contract or set-up fees, and a flat per-donation fee of 4.5 percent, which drops to 4 percent when you raise a certain amount. Continue reading →