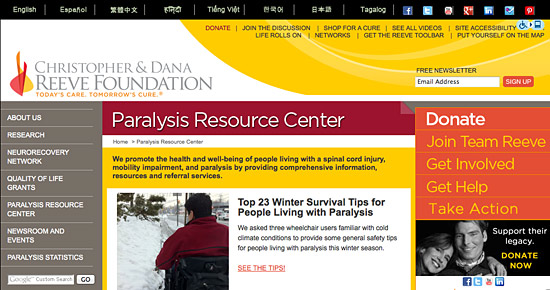 Wide use of social media by the Christopher & Dana Reeve Foundation.
A look at how nonprofits are using social media to fund-raise for social good
Guest post by Frank Barry
Director, Professional Services, Blackbaud

According to a study by Blackbaud, NTEN and Common Knowledge, over 92 percent of nonprofit organizations have a presence on at least one social networking site, but most raise very little money through their social activity.
In fact, 87 percent have raised under $1,000 on Facebook since they began using the platform.
A big part of what holds nonprofit organizations back is the fact that they can't risk full-fledged social media adoption because they're short staffed and must focus on creating revenue and running programs — helping real people in the real world.
Yet despite the lack of widespread fundraising success, social media is clearly a hot topic in the nonprofit space. Conferences dedicated to helping nonprofits learn how to leverage social media for social good are popping up. Big social fundraising days coupled with workshops and other training events are taking advantage of the groundswell of social fundraising activity. And large online publications like Mashable are even covering social media for social good.
89% of nonprofits use Facebook while 57% use Twitter — and more than half have no formal budgets for social networks.
According to Darian Rodriguez Heyman, author of "Nonprofit Management 101" and creator of the Social Media for Nonprofits conference, "In a world where Facebook is the equivalent of the third largest country on the planet, we have to ask ourselves, 'How can nonprofits leverage the immense word-of-mouth potential that social media makes available to causes both large and small?' Nonprofit leaders need practical tips and tools for fundraising, marketing, and advocacy if they are to maximize impact online and in general."
So what is holding nonprofit organizations back and how are the top 1 percent succeeding? It's clear from the data below that three big things contribute to the lack of fundraising success: 1) lack of budget, 2) lack of staffing, and 3) lack of focus on raising money. Continue reading →