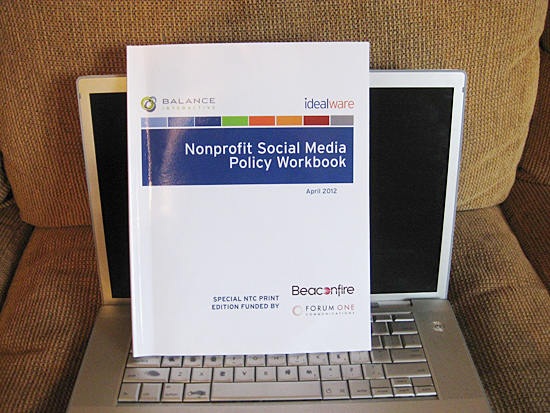 Free Nonprofit Social Media Policy Workbook helps you define a policy, roles & messaging
Target audience: Nonprofits, foundations, NGOs, social enterprises, cause organizations, brands, businesses, educators.

Last month I sat on a panel at SXSW Interactive with three fellow nonprofit community managers to discuss boundaries in online community management. Organizations and community managers are grappling with this, and the active Q&A (documented here) during the session was a testament to this fact. Idealware and Darim Online, with support from Balance Interactive, have just released a free Nonprofit Social Media Policy Workbook for nonprofits trying to figure out how to get a handle on the personnel side of social media.
Why do you need a social media policy? The workbook introduction sums it up clearly:
"A good social media policy will provide clear guidelines as to what staff should and shouldn't do when posting and interacting with the community on a day-to-day basis, freeing them up to think more strategically. It's also likely to help leadership feel more comfortable with the less-formal nature of social media by letting them establish boundaries for its use."
In this simple yet complete guide, the authors walk through many of the critical social media policy issues with which organizations struggle: the reasons for a policy, applying organizational values to the policy, social media roles, what to say online, social media monitoring strategy, responding to criticism online, responding to other comments online, privacy and permissions, and thinking through copyright and attributions. Each section offers at least one highlighted example from an organization that has struggled with the same issue, and how the issue was resolved. Continue reading →