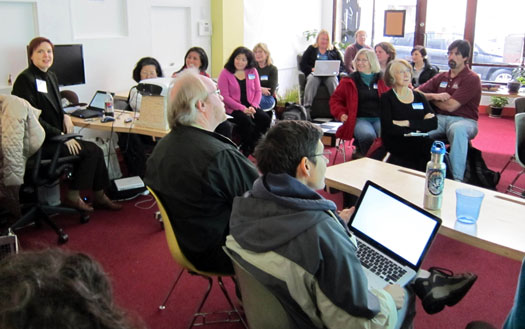 Add-ons to make your blog more powerful & versatile

Last week I attended a WordPress East Bay meetup in Oakland led by Podcast Asylum trainer Sallie Goetsch (at left in picture above). I've been an avid user of, and proponent of, WordPress since I began using the open source platform for all my blogs (Socialmedia.biz, Socialbrite and jdlasica.com) in December 2008.
At the end of the session we began discussing our favorite WP plug-ins. As someone pointed out, the WordPress Plug-in Directory is daunting and not terribly user-friendly, with 8,516 plug-ins and sometimes terse coder descriptions of what they've created. So it's up to bloggers and journalists to sift through the noise and pinpoint the gotta-have plug-ins. (I'll be doing the same with my favorite Apple iPhone apps next month.)
The WordPress development community is a wonder to behold and one of the main reasons I switched from TypePad to WordPress. Plug-ins greatly expand the number of things you can do with your out-of-the-box WordPress installation.
Here, then, are my 10 must-have WordPress plug-ins for anyone running their own WordPress.org site — I'll bet you haven't heard of some of these! Please list some of your own favorite plug-ins in the comments below.
Top 10 WordPress plug-ins
Akismet
:
Taming the spam monster
It's hard to imagine blogging without
Akismet
, the free (for personal use) spam filter — both as a
stand-alone service
and WordPress plug-in — created by WordPress founder Matt Mullenweg and five of his colleagues. About 99 percent of the time, Akismet identifies spam as spam, saving you from having to filter genuine comments and trackbacks from the evil scourge that is spam. Akismet comes already installed on all WordPress sites; you need to activate the API key.
Dagon Design Sitemap Generator
:
Make the search engines happy
My understanding is that the major search engines like it when you deploy and activate a plug-in like
Dagon Design Sitemap Generator
. In the old days, site maps were for humans. Today they're chiefly for search engines to help them index your site. The plug-in lets you configure what to show through your WordPress dashboard: pages and posts, how many items to display on each page, etc. I also use
Google XML Sitemaps
.
Broken Link Checker
:
Identifies bad links anywhere on your site
When I worked for Microsoft in the late '90s, my favorite tool was our internal system's dead link checker. I missed this tremendously during first eight years of blogging, since such a tool would serve as an automated editor when I messed up a link or when link rot set in. Now,
Broken Link Checker for WordPress
does the trick, checking your posts and pages for broken links and missing images and notifying you on the dashboard if any are found. Genius.