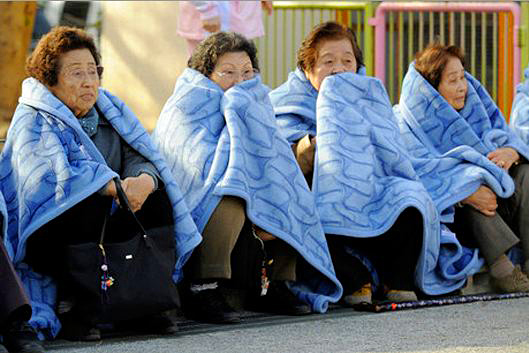 And tips on donating to disaster relief causes
Editor's note: Here are a few ways to help survivors of Japan's devastating earthquake and tsunami.
For donations
• Text REDCROSS to 90999 to give $10
• Text JAPAN to 50555 to give $10 (Global Giving)
• Text MED to 80888 to give $10 (International Medical Corps)
• American Red Cross: Emergency Operation Centers are opened in the affected areas and staffed by the chapters.
• Global Giving established a fund to disburse donations to organizations providing relief and emergency services to victims of the earthquake and tsunami.
• Network for Good's Quake and Tsunami Relief page
• Save the Children: Mobilizing to provide immediate humanitarian relief in the shape of emergency health care and provision of non-food items and shelter.
For crisis response
• Google has launched a Crisis Center and Person Finder for Japan earthquake & tsunami victims.
• Crisis Commons has set up a Honshu Quake wiki
Know of more resources? Please add them to the comments below.
Guest post by Saundra Schimmelpfennig
Good Intentions Are Not Enough
The following is a series of dos and don'ts to help you make the best donation decisions after a disaster.
Do determine if the country is accepting international assistance
With all the photos and videos of destruction on the evening news, it may seem impossible that governments would not want outside assistance. However, just because there has been a disaster does not mean that the local government and local aid organizations are not capable of reaching and helping those in need. Before sending your donation, find out what, if any, assistance the government is allowing. Check to see if the aid organization you're considering donating to is offering that same type of assistance.
Do look at a variety of nonprofits before giving
There are hundreds of organizations that respond to most disasters, take the time to evaluate a few before giving. Also, just because they have name recognition does not mean they're best able to respond to the disaster. Look for organizations that were operating in the country before the disaster, they will be able to respond quicker and know the local culture, politics, and needs better. Giving to local organizations is great, unfortunately they can be difficult to find and may not have a website or if they do it may not be in English.
Places to find lists of organizations involved in the recovery efforts include:
• InterAction for many U.S. organizations
• Reliefweb.int for organizations from many different countries
• Dochas for Irish aid organizations
Do look for organizations with prior experience and expertise
There is a great deal of money after well publicized disasters. The ease of raising money makes it tempting to respond even if the organization does not have prior experience in that area. After the 2004 tsunami, many organizations with no prior experience built boats or houses. I attended one handover ceremony where the boats actually sank during the ceremony because they weren't properly sealed. There is a steep learning curve when nonprofits move out of their normal area of work, this may lead to mistakes and wasted money. Make sure the organization has prior experience in their proposed projects.
Don't donate to a project just because it's "sexy"
If you trust the organization, allow them to make professional decisions on how to best use your donation
Recovery projects that are inherently attractive to donors – such as orphanages or boats – are easier to fund but may not be what is most needed. After the 2004 tsunami, orphanages were built in excess of what was really needed, and I had an orphanage approach me looking for orphans to house. So much money was given to orphanages in Indonesia that some families resorted to abandoning their children at the orphanages because they could not feed and clothe them. It would have been far better if the donations had supported the family so they could care for their children themselves. Boats were also heavily funded, leading to far more boats built than were actually lost and a real concern for over-fishing.
Don't earmark funds
The organization is on the ground and has a far better idea of what is needed the most than someone half the world away. Earmarking funds may force the organization to spend money where it's not needed and keep it from funding the projects that are needed the most. After the tsunami in Thailand, an organization had money earmarked for two truckloads of rice. By the time they arrived in the area four months after the tsunami, shipments of rice were no longer needed. Because the money had been earmarked, the organization had to contact donors to get permission to use the money in different ways. If you trust the organization, allow them to make professional decisions on how to best use your donation. If you don't trust them, then find another organization to donate to. Continue reading →