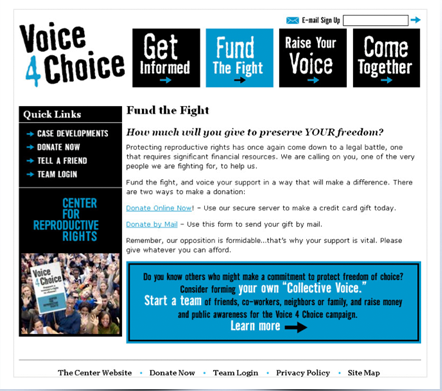 Microsite built for The Center for Reproductive Rights by SankyNet.
Microsites can be a powerful tool for online fundraising and marketing
Target audience: Nonprofits, NGOs, cause organizations, social enterprises, brands, foundations, educators, Web publishers, creative directors.
Guest post by Carla Chadwick
Creative director, SankyNet

Let's face it: Nonprofit websites often suffer from multiple personality disorder.
There's the "program" side that wants to tell you all the amazing ways your programs help save homeless pets, feed the hungry, find cures, protect our children, or empower women. There's the "events" side that must sell tickets. And don't forget the "communications" side, whose press releases and news items help raise awareness. While often a complicated web of messaging, it's a necessary evil when many departments must relay information using a single corporate website.
So as fundraisers, how can we tell the real story – expose the true heart of an organization – when our messaging is only one part of a huge multi-dimensional website? The answer is simple: Create a microsite that allows you to focus on a particular topic, present specific calls to action and, with the help of social media, reach large numbers of people much more quickly than a traditional website.
When done correctly, a microsite can be one of the most powerful storytelling tools available to fundraisers. But don't take my word for it, here are some examples of wonderful and highly effective microsites.
3 examples of successful nonprofit microsites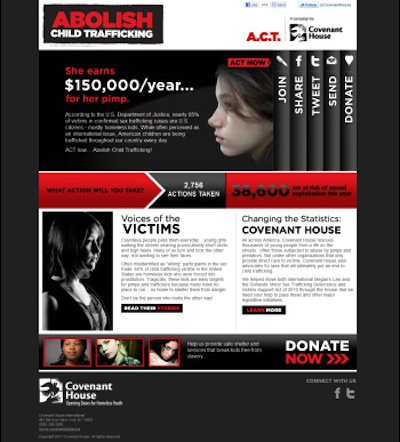 1Covenant House is the largest privately funded agency in the Americas providing food, shelter, crisis care and essential services to homeless and at-risk kids. In an effort to mobilize their existing activists and acquire new ones, Covenant House developed a microsite that digs deep into the issue of domestic child trafficking.
Through the stories of four young victims, the A.C.T. microsite raises awareness of a crisis that affects thousands of American kids each year and issues an urgent call to action. Clear, concise information, bold statistics and striking graphics help further engage the audience and dispel the misconception that human trafficking is a trend confined to foreign soil.
While the content makes a strong case for giving, the main goal of this campaign is to use the broad reach of Facebook, Twitter, email and free infographics to help raise awareness. There is a valuable lesson to be learned in this strategy. Microsites do not have to be used solely for fundraising. Even though microsites cost money to develop, there are times when building a solid warm-prospect list is a legitimate goal that deserves the investment. Continue reading →