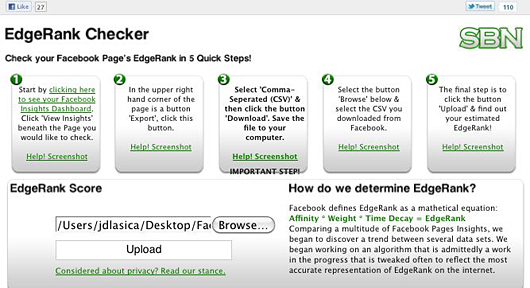 New tool: The EdgeRank Checker app shows how well your Facebook Page is performing.
It's the heart & soul of Facebook — and few people understand it
Target audience: Nonprofits, cause organizations, NGOs, government agencies, educators, Web publishers, journalists, individuals. Also see Part 2: 15 ways to increase your Facebook stature

Over the years, Facebook has become a central part of our online social presence — for nonprofits, organizations and our personal brands.
So why do so many nonprofits and organizations know so little about how the heart and soul of Facebook actually works? I'm referring to the Facebook News Feed, featured in a Chevy Cruze commercial in the second quarter of yesterday's Super Bowl.
In this series, we'll offer tips on how to use Facebook much more effectively as a professional by taking charge of your News Feed. We'll dissect Facebook's secret sauce, called EdgeRank, to help you build authority with the right touch, tools and tactics. And we'll give you tips on how to expand your organization's reach and influence on Facebook.
How Facebook's news feeds work
Facebook is far more than a social network: It's also a personalized news network powered by a highly dynamic engine that's personalized, relevant and timely. The crown jewel of this dynamic landscape is the News Feed. The News Feed consists of the content continually fed into the center column of your home page from people and Pages you follow on Facebook. You'll see status updates, photos, photo tags, videos, friend requests, event RSVPs and group memberships.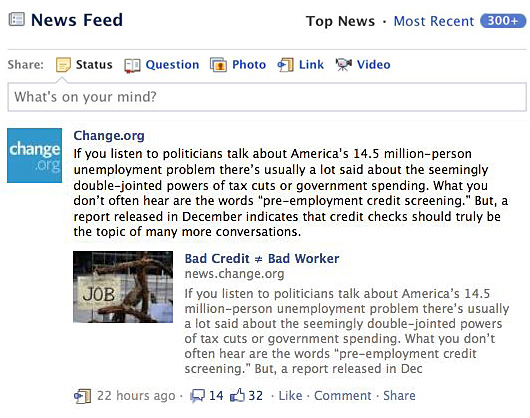 Facebook's news feeds have evolved significantly since the first one was introduced in 2006. With close to 600 million members, Facebook handles billions of individualized feeds — an impressive feat of engineering, if you to stop to think about it. Some members may not realize it, but the news stream you typically see on your page displays only a small portion of the updates posted by your Facebook friends.
A few weeks ago Facebook tweaked the Most Recent feed. Now you have the option to display photos, Page updates & posts on Friend Lists.
Your News Feed comes in two flavors:
• Top News contains what Facebook calls "the most interesting content that your friends are posting." This filtered feed is the default view on Facebook (until you change it), and Facebook said in late 2010 that more than 95 percent of its nearly 600 million members using the Web interface see the site through this prism. (This figure doesn't count members using mobile apps and third-party apps.)
• Most Recent shows you "all the actions your friends are making in real-time," Facebook says (though that's not literally true, as we'll see below). On Dec. 22, with little fanfare, Facebook updated the Most Recent feed, giving you more filter options, including just photos, just updates from Pages, and posts from the Friend Lists you create. Pretty cool! Continue reading →