Why embracing data should be an important part of your leadership strategy
Target audience: Nonprofits, NGOs, cause organizations, social enterprises, brands, businesses, social media managers, marketing professionals, individuals.

I recently presented a workshop titled "Data Driven Leadership" at the Massachusetts Nonprofit Network/AGM annual conference along with colleagues Marc Baizman and Steve Backman. The question we addressed in the workshop was: What online data can help a leader make informed decisions around programming, advocacy and fundraising? Marc, Steve and I have expertise in Google Analytics, in understanding customer segmentation and databases, and in identifying social media metrics, respectively. Each of us thought about how the data from our respective areas of expertise could shed light on an answer. The hardest part was choosing what to eliminate from our presentation, as we only had one hour to cover this enormous topic!
Getting started with gathering data
We created a DIY worksheet for the session titled, "Make Your Data Work for You." It offers sample questions to get you started thinking in the areas of marketing, programs and services, development, and volunteers and advocacy. For every sample question, it asks you to set the priority level, consider what data you'll need to answer that question, and where you can find the answer. There are a lot of spaces for you to customize the worksheet to your needs. You can read and download the worksheet.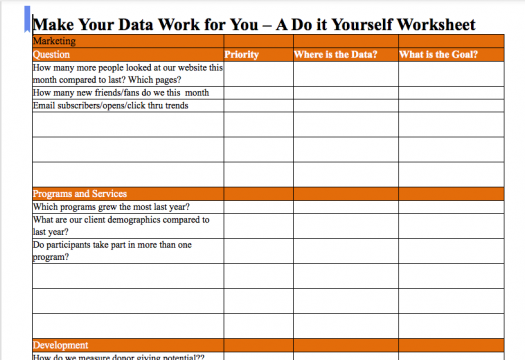 For every leader, thinking about the real organizational questions that the data could offer is the place to begin.
Below are summaries of our segments of the presentation, written individually by each of us. You can also view the SlideShare presentation above for the complete takeaways. Continue reading →