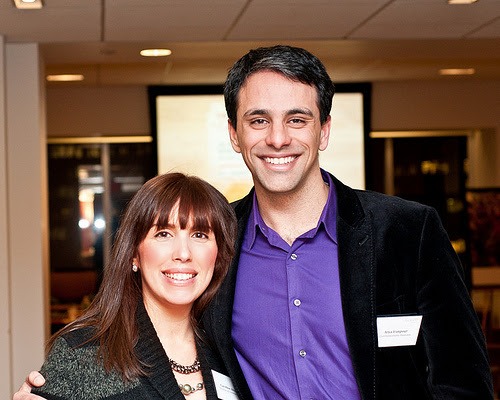 Caroline Avakian, SourceRise founder & CEO, with Arya Iranpour, Chief Technology Officer and founding engineer (Photo by Maulin Mehta)
Target audience: Nonprofits, cause organizations, foundations, NGOs, social enterprises, journalists, educators, general public.

While a number of promising Web 2.0 social enterprises have launched in the past few years, SourceRise, which just soft launched in beta last week, is showing great momentum right out of the gate. SourceRise, founded by our very own Caroline Avakian (managing partner at Socialbrite), connects journalists and bloggers to sources at international NGOs and nonprofits in an effort to diversify the voices represented in the news and to increase the number of well researched, compelling development and foreign news stories in traditional media.
Last week I interviewed Caroline to find out more about SourceRise and how it's building bridges between the media and nonprofit sources.
In a nutshell tell us about SourceRise and how it connects journalists and bloggers to NGO and nonprofit sources.
SourceRise is a social enterprise that directly connects journalists to sources at international NGOs and nonprofits. In a time when international news gathering budgets are shrinking at record rates, it is becoming more difficult for major news outlets to independently cover international and development news stories. Via a network of journalists and expert global NGO sources, SourceRise enables development foreign news reporting rooted in real time, accuracy, and deep context. Continue reading →