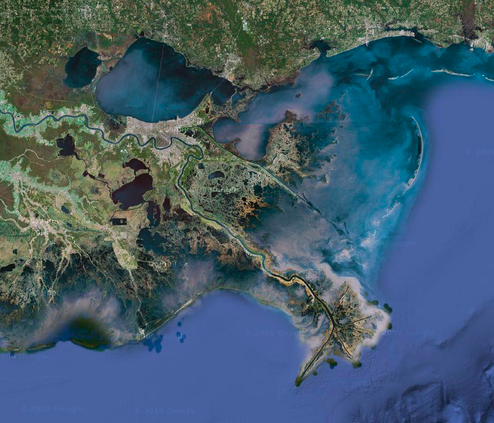 Chandeleur Islands Balloon Aerial Imagery from Grassroots Mapping

Ways to get involved & new technologies being used to stop and track the disaster

President Obama addressed the nation last night and made a stop in the Gulf Coast region this week to survey the damage and relief efforts. As local residents already know, the environmental and economic impacts are far greater than anyone could fathom or dare imagine.
The "Crude Awakening," as it's been called, is causing a lifetime of damage to the Gulf Coast, spurring over 45 rallies nationwide to demand BP step up and take responsibility for its actions and that the government pass stricter regulations on offshore drilling. The Deepwater Horizon explosion occurred on April 20, and crude oil continues to spill into the Gulf Coast region.
In the mayhem and despair, citizens and activists are in a constant state of emergency and disaster mode. Anne Rolfes, Founding Director of the Louisiana Bucket Brigade, told me, "Our office is bombarded every day by phone calls and people who walk through the door wanting to help in the face of this impossible situation. We are putting them to work to document the problem – gathering data, making the people-to-people connections that will help the real story be told. When the spill stops, BP has a public relations machine ready to minimize this and pretend it didn't happen. We don't have a machine but we have something better – real people who are passionate and determined."
This time of year marks another important date for the Gulf Coast region. It's the official start of hurricane season. With wetlands and marshes already under attack, meteorologists and hurricane experts warn this year's hurricane season is more dangerous than ever. Imagine cities not only suffering water damage but covered in oil.
It's hard not to be despondent, and worse, not know what you can do to help. Listed below are organizations making a difference and bringing together technologies being used to stop the oil spill from spreading and tracking the spill, providing a dataset open to the public.
Consider supporting these organizations and finding a way to get involved.
Grassroots Mapping
Grassroots Mapping, a creation of Jeffrey Warren from MIT Media Lab's Center for Future Civic Media, is producing imagery created by volunteers and owned in the public domain. By using balloons and kites equipped with inexpensive digital cameras, these "community satellites" are able to georeference and create maps with 100x higher resolution than what is available on Google to be used in the environmental battle and litigation proceedings in the coming years. Orientation sessions are being offered in New Orleans and a DIY wiki is available on their website.
What you can do: Grassroots Mapping is currently running a Kickstarter project to raise money for more kites and helium tanks to put in the hands of volunteers in New Orleans. They are looking to raise $5,000 in the next 20 days. A donation of $10 or more gets you a print of any photo in their public domain dataset. Continue reading →