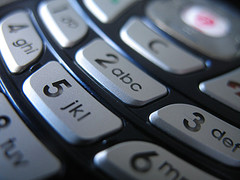 Mobile advocacy basics, from keyword response to mobile data collection
Guest post by Melissa Loudon
MobileActive
S MS is everywhere, in an amazing diversity of applications. From enabling 'instant protest' in the Philippines, Spain and Albania, to election monitoring in Ghana, Lebanon, and Sierra Leone to HIV/AIDS education and support in Mexico and South Africa, we've seen that 160 characters can make a difference. This how-to covers the basics of setting up an SMS campaign system, looking at different approaches to suit your goals, budget and technical expertise.
What do you want the system to do?
Before you start, it's important to have a clear vision of how you want to use the system, and who the target audience might be. You should also do a level-headed audit of the resources available, including funding as well as staff time and technical expertise. If this doesn't look promising, take heart! Sometimes the most effective systems are the simplest, and you don't need a big budget for many types of SMS campaigns.
3 types of SMS campaign systems
In a MobileActive Primer on Desktop SMS Campaign Tools, Ben Rigby and Katrin Verclas identify three ways to use SMS campaign systems: Text blasting (bulk messaging), keyword response and smart texting. We'll summarize the three approaches here. Continue reading →