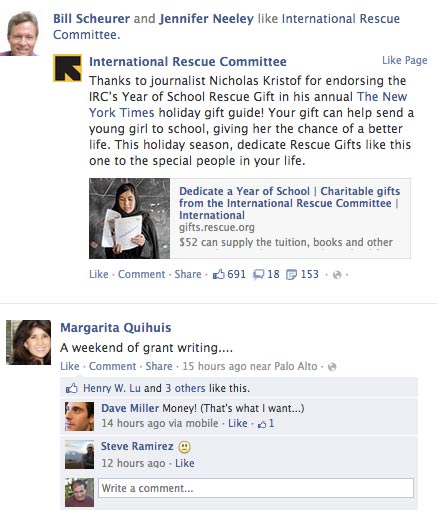 6 tips to keep your content top-of-stream
Guest post by Meghan Keaney Anderson
Hubspot

In late September news trickled out about a change in Facebook's EdgeRank algorithm that was causing big drops in reach for many branded pages for nonprofits, businesses and all organizations. The EdgeRank algorithm determines which posts are displayed in the newsfeed and in what priority order. Noticing a clear decrease in the reach and virality of pages, Beth Kanter took to Facebook to see if many nonprofits had experienced it. She received a number of replies affirming the dropoff, while others, like John Haydon at Socialbrite, say the evidence doesn't support that claim.
What seems to have changed?
The main tenet of social shares remains true: Interesting, remarkable content will always rise to the top
Both EdgeRank Checker and Post Rocket have good posts on the details, but in a nutshell, Facebook has altered the way it displays posts in the newsfeed to prioritize posts that have the greatest number of interactions – a cumulative figure determined by the number of clicks, likes, comments and shares a post receives. The new algorithm also factors in negative feedback and penalizes posts that have been actively hidden by viewers or reported as spam.
Regardless of whether Facebook's code tweaking is having an impact on your fans' newsfeeds, the real question now is: Short of paying for promoted posts, what can nonprofits do to adjust to these changes and make sure their content earns the sort of reach and virality needed to engage new volunteers, donors and advocates? Here are a few tips to keep in mind to help your content remain top-of-stream. Continue reading →