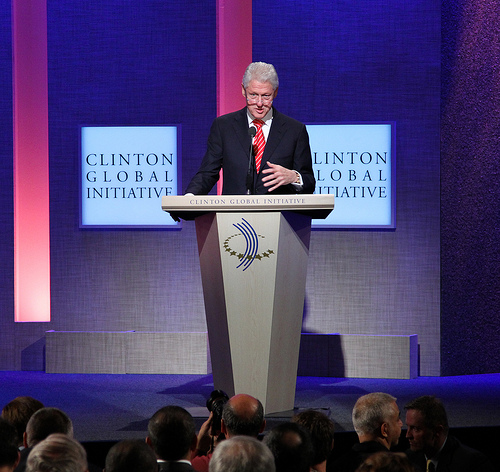 Former President Clinton at the Clinton Global Initiative this week. (Photo by Taylor Davidson on Flickr)

I'm in New York City this week for a flood of world-changing, global-thinking, innovative and inspiring conferences, meetups and opportunities. I'm also covering much of what is happening on a few different online platforms, plus have some exciting press to share, so I thought I'd put it all here for you.
It's UN Week, and accordingly, Mashable, the 92nd Street Y and the UN Foundation hosted the Social Good Summit, which I attended and wrote about. I wrote up a few posts online, check them out!
Halogen: Social Good Summit Kicks Off UN Week Republished on the United Nations blog, Conversations For A Better World
UN Week Media posted three of my posts:
You can also find some of my posts at WeBlogTheWorld.
On NPR's 'Talk of the Nation'
Next up! I was on NPR's Talk of the Nation Tuesday afternoon. What an honor. I was contacted through the contact form on my blog to see if I could participate in a conversation about how apps and social media can change the world. I was like "uhm yeah, I can talk about that." Minus the "uhm" of course. But seriously, I mean my grandparents listen to NPR. Along with my photo and coverage in the Wall Street Journal earlier this year when I was the citizen journalist chosen to go to the World Economic Forum in Davos, it's like my family finally understands what I do! Continue reading →