Target audience: Nonprofits, foundations, NGOs, social enterprises, cause organizations, brands, businesses, Web publishers — anyone with a Facebook page.
Editor's note: Facebook is switching over all nonprofit and business pages to the new Timeline format this Friday, March 30. Because so many organizations haven't yet made the move, or are still figuring out the best approach, we're devoting this week to help you get ready to make the transition smartly. Contact Socialbrite if you need help.
In this series:
• Monday: 7 tips & cheat sheets to help you implement the new Timeline
• Wednesday: Tips on maximizing the new Timeline
• Thursday: What story should you tell in Facebook Timeline?
Guest post by Nancy Schwartz
President, GettingAttention.org

There's no stopping it. As of March 30, your organization's Facebook page will be transitioned to the new timeline format, featuring an engaging cover photo (if you do it right) like the Surfrider Foundation, above.
This will happen whether you're ready or not, so I urge you to prepare and use these remaining days as an opportunity to strengthen your organization's Facebook presence. Here's how to shape your new page around photos and images that engage and motivate your community:
Find photos that tell your story best
Photos have incredible power in their ability to draw us, almost subconsciously, into stories. Digesting visual content, rather than the narrative content we're more used to, allows us to engage more freely and fully than usual.
The new Facebook template invites brands like yours to place a large "cover photo" at the top of the page, up to a size of 851 x 315 pixels. That's about 50 percent of the screen on my huge iMac screen, which means it could cover up to 80 percent of the vertical space of the average laptop. That doesn't leave much space to view other elements on the page, so you have to make it good.
Beyond the real estate, your cover photo is a vital hook in drawing your Facebook community (and visitors) into your organization's story — now conveyed as a Timeline on Facebook — and drives them to learn more about the organization and take action.
Select a photo or collage of photos that conveys the core message of your organization's impact in a way that's relevant, specific and emotionally compelling. Before you choose a photo, join your colleagues to pinpoint what you're trying to achieve, and then what strategies and results should be conveyed in the photo.
Search for, or take, an image that is strong enough to transport members of your network so they can experience what it's like to step in another's shoes. That's what the best storytelling does, and what you can do with visual storytelling Facebook style: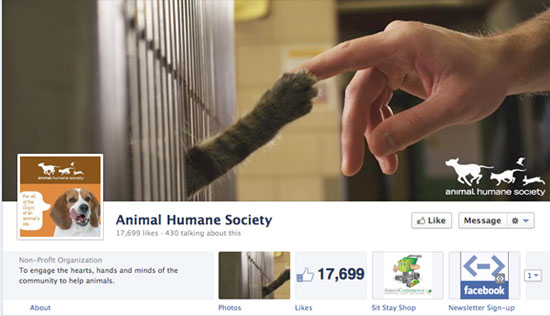 Shape and use your cover photo well
Most photos and video are stronger when framed by some context. That's why video starts with a title screen and generally finishes with a close, and why many photos and illustrations feature captions. The messaging has to be just enough: not too much to prevent the viewer from fully experiencing the photo, but not so little that the viewer is barred from entrance by confusion or frustration.
A succinct, targeted message that complements your photo provides credibility. Even more important, it frames the image to direct the viewer toward the action you want them to take, often leading directly to the "aha" moment.
But Facebook requires a soft sell — no calls to action
Facebook has always been big on rules, and this transition is no exception. Here are the rules for cover photos:
Cover images … may not contain:
Price or purchase information, such as "40% off" or "Download it at our website"
Contact information, such as web address, email, mailing address or other information intended for your Page's About section
References to user interface elements, such as Like or Share, or any other Facebook site features
Calls to action, such as "Get it now" or "Tell your friends."
Well, that wipes out the most vital messaging there is: your website — still your home base online — and your call to action. It's ironic that this ban comes from the organization that turned "Like" into the biggest call to action ever. Continue reading →