Sign up to hear the latest in social media for social good
The Socialbrite team sends out occasional news items, updates, event announcements, pointers to high-quality articles you may have missed and more. Please sign up here:

Your bonus for keeping in touch with us!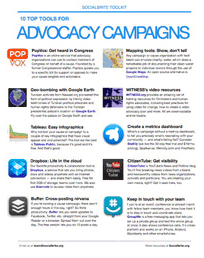 As a special thank-you for signing up, you'll immediately receive this bonus:
Social Actions Toolkit. A full-color e-guide of top advocacy tools, campaign tactics, social action hubs, collaboration tools, mobile apps and hashtags for social change (6 pages).
Sign up now and get the toolkit for free! Of course, we'll keep your information private, and we'll never spam you.