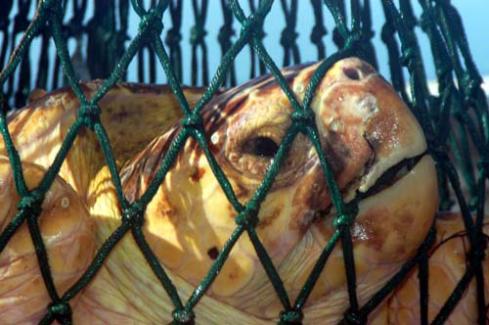 Sensing is just one way in which mobiles are used in environmental protection. Another promising area is wildlife protection in sensitive areas where humans and animals collide, often to the detriment of protected animals.
In the Laikipia District in Kenya, the University of Cambridge conducted a project using mobile phones to protect and manage Kenya's second largest elephant population, and the ecosystem they inhabit.  The goal was to alleviate human-elephant conflict between local farmers and the protected elephants.  The project used mobile phones for early warning of elephants approaching farmland by using 'push-to-talk' technologies, and GPS/GSM collars for the elephants, allowing wildlife personnel to intervene before elephant became a danger to farmers and vice versa.
Mobiles are especially useful for gathering and acting on just-in-time information. Imagine this scenario: A woman in Johannesburg, South Africa, stands at the fish counter in her local supermarket and texts the name of a fish to a phone number. Within seconds, she receives back information via a short text message informing her whether the fish is legally and environmentally harvested and advising her whether "to tuck in, think twice or avoid completely."
The consumer is using FishMS, a text service of Sassi (The Southern African Sustainable Seafood Initiative) and the World Wildlife Fund to help consumers make informed choices about the seafood they purchase.
Sassi has taken this system into a mobile environment — just in time environmental information in the super market. Jaco Barendse, coordinator of SASSI, says that cell phones are "the ideal way to combine technology and information with the variety of seafood available and the growing awareness among seafood lovers, chefs, food buyers and so on that the ocean's resources aren't infinite. It also "demonstrates to retailers and restaurateurs that those consumers are willing to use their spending power. When shoppers and restaurant patrons start texting to check whether the 'Catch of the Day' is okay to eat, it'll hopefully help drive suppliers buying habits."
Text message information services
FishMS is one of a growing number of environmental text message information services available to consumers and citizens that provide just-in-time information about the toxicity of products, ambient air quality, or the environmental impact of products and companies.
Blue Ocean's FishPhone does the same in the United States and has been a 'runaway' SMS success.  US customers can try it out by texting the words "fish" and then the name of the species you are wondering about — say "tuna" — to 30644. And watch for the new Sushi Guide put together by Blue Ocean, Monterey Bay Aquarium, and the Environmental Defense Fund.
Consumer information on the mobile is also the idea of GoodGuide, a new start-up spun out of the University of California at Berkeley. Good Guide provides 'green' consumer information for shoppers who want to buy products in line with their values.
The tens of thousands of products are organized into categories such as health, social and environmental impact. Currently, there are four product types: personal care, household chemicals, food, and toys. Electronics and and apparel are to be added over the next several months.
"I think there's a burgeoning awareness that there is a global supply chain behind a product," Dara O'Rourke told Wired.com in an article. "People are seeing that there are real costs to these everyday low prices. The question is, can we deliver this information in a way that is simple and easy and helps people make decisions?"
O'Rourke spent years compiling a database of the 'greenness" of products, drawing on more than 650 data sources to create product metrics. This has been a major barrier of many of these consumer guides accessible by mobile as assembling the data points is expensive and time-consuming to do.
Consumers will be able to receive text messages about products based on the product UPC code. Good Guide also developed an iPhone app that allows you to create your 'good guide' shopping list, and most excitingly, GoodGuide has an open API that exposes the site's data for other applications and organizations that want to use it.
Research has shown that consumers respond best to 'action asks,' that is, buy or no-buy recommendations that show a consumer in very simple terms what to do in the grocery aisle. We are excited to see how successful scores are in changing consumer behavior.
And then there is, of course, the straight-forward environmental activism.  Greenpeace Argentina, for example, has an urgent alert network of 100,000 'movile activistas' who can be contacted by the push of the 'send' button via text message during legislative action campaigns.  The organization is the premier environmental advocacy outfit in Argentine and, thanks to instant alerts and smart campaigning, using the web and text messages, was able to pass the first forest protection law in the country in 2008.
These are exciting times where mobiles can become an integral part in our environmental lives, helping to make data and information accessible, and change the way we shop, consume, and advocate. Of course, mobile phones are also a source of environmental waste – so-called m-waste – that often ends up in developing countries.  So, to come full circle, please make sure you recycle that phone when you upgrade at a reputable recycling facility.
This entry originally appeared at MobileActive.org.
Related
• A user's guide to mobile activism

This work is licensed under a Creative Commons Attribution-NonCommercial-ShareAlike 3.0 Unported.