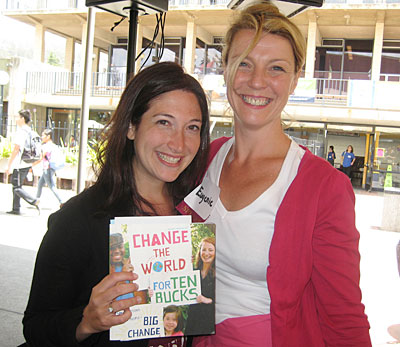 Randi Zuckerberg and Eugenie Harvey at last summer's Craigslist Foundation Bootcamp.
Guest post by Beth Kanter
Zoetica
It has been a year since I've relocated to the Bay Area in California. The summers here are much less humid than on the East Coast, but the real treat is having the Craigslist Foundation Bootcamp practically in my backyard. The next btootcamp takes place on August 14 – I wouldn't miss it.
Last year, I was honored to be a workshop leader at Craigslist Foundation Nonprofit Bootcamp, but was even better is that the sessions on the program were really good and I learned a lot. I'll be doing a session this year on The Networked Nonprofit, but really looking forward to hearing the keynotes as well as the sessions.
This year's bootcamp is focused on strategies for fostering and building communities with sessions led by incredible people in the field. The one-day schedule is a chance to participate in interactive workshops, meet people who can turn dreams into action, receive expert coaching, and get fired up by stories of successful community transformations. There are also opportunities for private coaching sessions, break-out sessions, and camaraderie with other passionate change-makers – not to mention pre- and post-event meetups.
Lots more information here: Boot Camp website and you can purchase a ticket here.
This post originally appeared at bethkanter.org.Beth Kanter is CEO of Zoetica, a consultancy for nonprofits. See her profile, visit her blog, contact Beth or leave a comment.

This work is licensed under a Creative Commons Attribution 3.0 Unported.