Download this free ebook: Cause Marketing Through Social Media

One of the best ebooks on cause marketing to come along in some time has just been released by Network for Good and Zoetica. Best of all, it's a free download.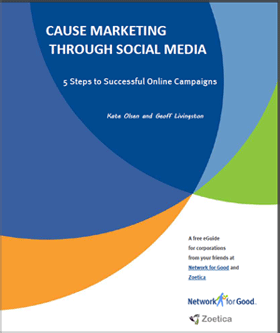 Written by written by Kate Olsen and Geoff Livingston, Cause Marketing Through Social Media identifies key questions a business should consider before beginning a cause marketing campaign, and it outlines five steps to make your campaign succeed.
The 26-page ebook covers the basics of developing cause marketing campaigns, looks at the potential for business impact and offers advice on getting people to take action. It also looks at recent online social good case studies as well general cause marketing examples, provides recommendations for best practices and lessons learned to inform your next campaign.
Bottom line, it's a great all-in-one primer on how to do cause campaigns right.JD Lasica, founder and former editor of Socialbrite, is co-founder of Cruiseable. Contact JD or follow him on Twitter or Google Plus.

This work is licensed under a Creative Commons Attribution 3.0 Unported.