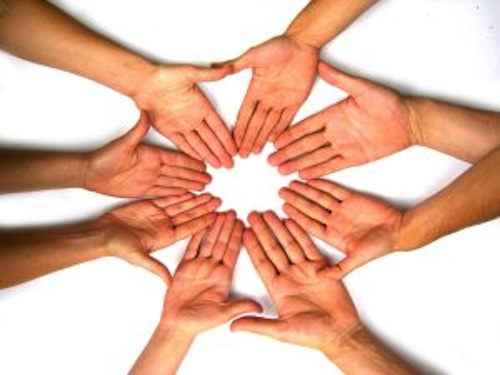 Give2Gether, Rally, Razoo, Fundly offer nonprofits a new way to support causes
Target audience: Nonprofits, cause organizations, fund-raisers, NGOs, social media managers, donors, bloggers, social cause advocates.
This article is part of a series focused on social fundraising.
Guest post by Janet Fouts
Social Media Coach
There's a new breed of fundraising tools out there that can help organizations with "social fundraising." These tools leverage the social networks of donors, supporters and organizations to substantially increase the revenue raised as well as the long-term benefits of becoming a part of the fabric of your donors' social media networks. They focus not just on large donations but on the collective power of micro-donations, which are often repeated and shared with friends.

These applications — which offer people a way to help spread the word about a cause through their social networks and their friends' networks — arrive with a dazzling array of services and fee structures. Where to start? As the fall "giving season" gets underway, nonprofits are looking at another tight-fisted year. It's more important than ever today to optimize platforms for donations and offer a way for your supporters to donate on as many platforms as possible.
Here's a quick breakdown of five applications we like. See the table at bottom for a snapshot comparison of features. Which have you used? Add your experience, feedback and suggestions in the comments, please!
Give2gether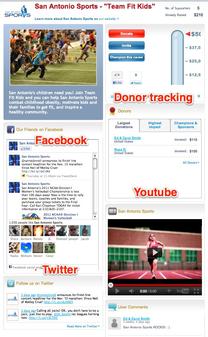 Give2gether leverages social networks all on one page. When your organization builds its main page, a template is created that includes the donor list for the overall initiative, and the "Champion Pages" can also be created as sub-sites by anyone raising funds for your cause. Funds go directly to the organization and to fundraisers for your cause so that your champions never have to worry about funds transfers, etc.
Both organization and champion pages allow users to see at a glance which of their friends have liked or donated to the page, tweet or post to Facebook with their own call to action, and keep tabs on how things are going.
Give2gether also integrates a mass email service with templates you can custom-design for calls to action, as well as create updates and donor thank-yous customized to your nonprofit's messaging, look and feel.
If what you're looking for is a mini-site to offer as much data as possible to potential donors complete with ways for them to customize it minimally and share with their friends, this could be a good option.
Razoo
So far Razoo is probably the most progressive of all of these sites. It allows you to create team fundraising pages as well as pages at the organizational level. You can accept donations on your own website rather than on their site using an embeddable widget that donors can also use to embed on their own sites with a click. It also offers template-driven event pages you can use for individual fundraising events.
You can send out emails to thank donors, create a personal thank you video, and track reports and donations from your Razoo dashboard or on their iPhone app. You can even register donations made offline so your accounting stays on track, something that can be critical with team fundraisers.
Razoo does not charge a monthly service fee. Instead it takes a flat rate of 2.9% across the board thanks to their partnership with US Bank. Unlike some of the other platforms that deposit funds immediately into your account, Razoo delivers funds once on the 10th of each month either by check or through electronic funds transfer.
Rally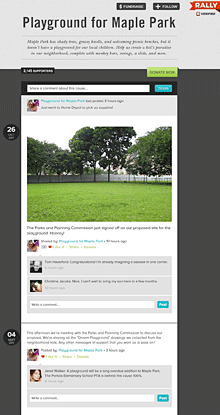 Originally launched as a political donation platform called Piryx, Rally focuses on using the social connections of your donors to help spread the word about your cause. Rally lets your individual fund-raisers create their own version of your page and share their stories with their friends. You control the look and feel of the page at the overall template level to keep branding elements intact and then users can add their own call to action, images and information to encourage their fans to donate and help spread the word.
Unlike many fundraising platforms, Rally has its own funds processing capabilities so you don't pay a processing fee to them and then to the credit card processing company. It also offers multiple platforms from Web-based to mobile in order to reach as many people as possible.
At the moment, Rally is in private beta. Only a select few have been invited in to play with the offerings, and it's using that user base to fine-tune the product. Rally is working on rolling out an extensive content-sharing platform that integrates email in addition to social tools, but we won't know until it comes out of beta. Expected to go live to the public in October, Rally should be a platform to watch.
GiveZooks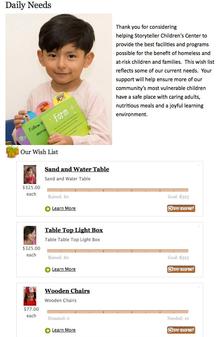 GiveZooks offers two main types of campaigns: long-term fundraising initiatives and single events-based initiatives. The pricing is based on the amount of money raised for the long-term fundraising campaigns, billed monthly or using a flat transaction rate of 2-2.5% (plus credit card processing fees) for events. It also offers several premium services to help you get your fundraising campaign up and running without delay.
There are several options for raising funds. You can create an online "wish list" to raise money for specific projects or even items you need to keep your nonprofit running smoothly. Additional items can be added to the list and donors select which items they want to help with.
If you want to promote a campaign online, you can create custom landing pages and embeddable widgets to allow supporters and donors to help you spread the word by embedding them on their own pages. Unlike some of the other services, you can offer multiple options for your donors to give: recurring, stock transfers, wire transfers, pledges and even gift cards can be donated to your cause through GiveZooks.
GiveZooks' individual fundraiser pages allow the individual to put their own personal call to action on a page and provides a guest book for individuals to communicate with their friends and rally support for the cause either by adding a link to the page, a widget on their own site, or by connecting through online sharing tools.
Fundly
Fundly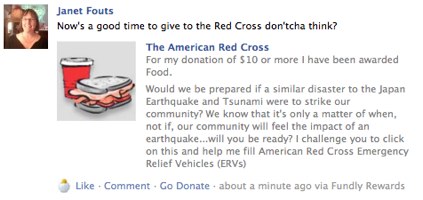 claims to raise 52% more funds simply because it incorporates social tools that allow a giver to tell their social network about their donation and encourage them to donate as well, thereby making that individual donor a gatherer of more like-minded individuals to donate and support the campaign. Using the Fundly Facebook application, users can donate or grab a badge and put it on their profile to encourage their friends to do the same. Then their friends add a badge and so on. Fundly leverages the "social graph" to recommend new followers for your cause. Fundly uses the same tools to inform donors of who else in their network has donated, and their fundraising goals, videos, photos and stories can all be shared through Facebook almost instantly.
Set-up is super easy. Enter a federal tax ID, name and address and you're good to go. From then on, everything is managed through your organization's dashboard. You can add basic graphics, logos content and links to your page, and you can have as many pages as you want so you can cover individual initiatives with their own focused donations page.
Fundly creates a button you can add to your blog or website to send donors right to your donation page, and there is a Facebook application to connect with donors directly on Facebook (as opposed to the Facebook integration through social plug-ins on the other platforms).
Customization of your donation form is possible, but at the moment you'll need a little help to create the custom CSS code to make sure it looks its best. Look for a more detailed article on Fundly later in this series.
Services at a glance
Facebook app
Donor mini-pages
Credit card fees extra
Pay as you go
4.9%
over $25,000 raised,
$199/mo.
over $400,000,
$499/mo.
Yes
No
Credit card fees included
4-4.5% flat fee
Integration with social plug-ins
Yes
Credit card fees extra
$250/mo.
7%
$300/mo.
5%
$500/mo.
3%
Integration with social plug-ins
Yes
Credit card fees included
2.9% flat rate
2.9% flat rate
2.9% flat rate
Integration with social plug-ins
Yes
Credit card Fees extra
Individual fundraisers
free
up to $500,000 raised,
$129/mo.
up to $2 million raised,
$249/mo
Integration with social plugins
Yes
Janet Fouts
is a
social media coach
with extensive experience in coaching nonprofits. See her website or follow her on Twitter at
@jfouts
.
Fundraising series on Socialbrite
• What social fundraising means for your nonprofit
• Social fundraising tools: Our top 5 picks
• Fundly: Tap into your supporters' social networks
• GoodThreads: Custom T-shirts as a fundraising tool
• HelpAttack!: Unleash the charitable power of social media
• Rally: Raise money for your favorite cause
• Mobile: The next frontier of nonprofit fundraising

This work is licensed under a Creative Commons Attribution 3.0 Unported.