A comparison of MailChimp, Constant Contact, Aweber & other solid choices
Target audience: Nonprofits, foundations, NGOs, social enterprises, businesses, community organizations, educators, marketers, Web publishers.
Guest post by Sarah Boisvert

Email is now standard communication for all but the smallest nonprofits and businesses. Why? Because it's one of the most cost-effective ways to market your products and services.
But for email marketing to be effective, the process is so complex it's not easy to go it alone. Success in the 21st century requires that you use a service that can simplify and automate email marketing tasks, from one-off communications to regular e-newsletters.
Choosing the best mail service for your nonprofit, organization or business is not a simple task, given all the options available today. So here's a rundown of some (but not all) of the major email marketing services that you should consider, whether you're just starting out or thinking about a change.
MailChimp: Low cost and easy targeting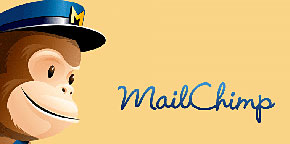 One of the most popular email services I came across is MailChimp. I found it attractive because it is so easy to target emails to a specific group. Unlike some of its competitors, it has a mobile app for Android and iOS. And it also comes with a nice analytics feature, which allows me to track sales I make in order to evaluate the effectiveness of my email-marketing program.
Analytics are important because we tend to believe whatever set of figures are most convenient. Looking at cold, hard numbers dispels those biases and keeps us on track as a data-informed organization.
MailChimp may be so popular because they offer a free version that gives you up to 12,000 emails per month to as many as 2,000 subscribers. You can also upgrade to paid programs with increased features for $10 to $15 per month. One of the major reasons to upgrade is a great feature to test emails to determine why they are being rejected as spam. This function highly automates the time and energy it would take to do this by hand, individually testing each variable. MailChimp also offers a guide for nonprofits worth checking out.
Don't end your search with MailChimp, though. Here are some more expensive email services that provide increased functionality.
Constant Contact: Event management meets marketing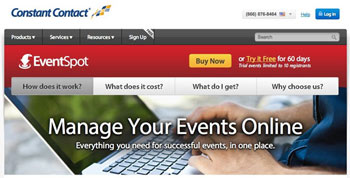 Constant Contact is the granddaddy of email service providers. Although I had used the service a few years ago, I wanted to see how it had evolved.
A great new feature is the ability to target specific types of publicity campaigns, such as social change efforts and donations for social causes. Another recent Constant Contact improvement is the ability to support discount codes for events and to even limit the number of times one person can download a code.
The sophistication of Constant Contact means that it's not inexpensive. Fees range from $15/month to $75/month. Plus the service does not offer a free version, although you can sign up for a free trial period to test-drive it. Constant Contact offers a 20 to 30 percent discount for nonprofits.
Aweber: Strong customer support is a central appeal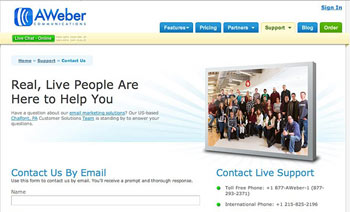 Prominent people in my industry recommended an email service called Aweber. What I noticed right away is that Aweber is an excellent email service for people who are focused on getting subscribers to sign up for a newsletter or other product. It allows for a seamless interaction between a product creator and those people who are looking for information about the product.
Pricing for Aweber runs from $10 to $130 per month. The service's unusually strong customer support program makes up for the higher price. How often do we see photos of the people providing customer service? This aspect of the program is particularly refreshing. For nonprofits, Aweber provides the first three months free and a 25 percent discount thereafter.
SendGrid: Customization is the key value add

A newer email service I came across is called SendGrid. You've likely heard of some of SendGrid's clients, including Pinterest, Foursquare, Spotify, HootSuite, Pandora and Uber.
SendGrid works especially well for organizations who looking to customize their email messages to a greater extent than is usually available. SendGrid is a great email solution for a business with a heavy emphasis on customization of its software, for example. Prices for SendGrid start at $9.95/month and go up to as high as $400 per month.
HubSpot: Track analytics to ensure your campaign is working

HubSpot provides users with an email tool that helps organizations easily create messages that are both aesthetically pleasing and coldly analytical. Users can create email templates to be used over and over again; these templates are customizable, too, so your nonprofit can get exactly what it needs. And it has mobile versions for Android and iOS.
HubSpot allows you to track analytics that can help you figure out how to get more out of your email marketing campaigns — check out the success stories of businesses and nonprofits that have used HubSpot. (Twin Cities Habitat for Humanity is among the Socialbrite clients that uses HubSpot.)
The email marketing packages are a little challenging to figure out. There's the Basic plan ($200/month), the Premium plan ($600/month) and the Enterprise plan ($1,000/month), each of which comes with its own set of features. Then you must add the number of contacts in your email lists with the new leads you annually generate from your website; each 1,000 contacts will cost you $100. Finally, you're given your price, which can range from $200 to well above that. But the good news is that HubSpot offers a free 30-day trial, so you'll have the chance to decide if it's right for you. Contact HubSpot for Nonprofits for special rates.
Vertical Response: 700 templates, sign-up forms & real-time results

The most attractive feature of Vertical Response is its ease of use. The whole process is pretty simple: You just create the email you'd like to send out, send it to your lists and then you can use the provided analytics to see what's working and what's not.
Vertical Response provides users with more than 700 customizable email templates to work off of, sign-up forms that can be posted online to expand your list of email contacts, real-time results reporting with detailed info such as the number of opens and clicks, and easy-to-access customer service. It also has a mobile app for iOS.
In a nifty move, Vertical Response gives nonprofits up to 10,000 emails to send out for free each month! Vertical Response may be best for small and mid-size nonprofits, new startups or businesses on a tight budget, as it offers pay-as-you-go pricing. The service can cost anywhere from $0.02 (for one email contact) to $3,750 (to manage a half million email contacts). You can also opt for one of their monthly plans.
That's our roundup of some of the top email service tools to enhance your organization's email marketing campaigns.
Do you have a favorite email service for your list? Why do you like it?

Sarah Boisvert
 writes on a number of topics including business management, social media, travel, and technology. She has profiled 
Steve Wynn
, Steve Jobs and companies from Apple to ZCorp.
Related
• 9 powerful, simple ways to build your email list (Socialbrite)
• How to use your Facebook page to build your nonprofit's email list (Socialbrite)
• 5 easy ways to integrate email marketing and Facebook (Socialbrite)
• How to create an email drip campaign for your nonprofit (Socialbrite)

This work is licensed under a Creative Commons Attribution-NonCommercial 3.0 Unported.