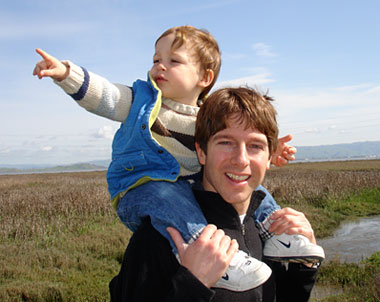 I had a riveting lunch this week with Jack Herrick (above), a serial entrepreneur who sold eHow (How to Do Just About Everything!) three years ago and, shortly before that, founded wikiHow (Building the World's How-to Manual), where he's now CEO of that social-good company.
Today's top wikiHow article: How to Moonwalk Like Michael Jackson.
We talked for a while about the wiki landscape — how eHow (37 million monthly visitors), wikiHow (16 million visitors) and Howstuffworks (11-12 million) dominate this particular turf, well above Howcast (how-to videos), Videojug (Get Good at Life) and similar sites, and how he doesn't regard blogs like Lifehacker (tips and downloads for getting things done) as competitors. (Here's an interview with Jack by Wikinews from earlier this year.)
How to incentivize contributors
Our talk drifted to what motivates people to contribute to these sites. Ego and reputation are certainly factors. A few sites pay slave wages — say, 2 bucks per article. Some sites have even begun to award karma or prestige points, as with the Minnesota Daily (a college paper) rewarding readers with points if they post a news story (20 points), share it with their Facebook friends (5 points), invite friends to the application (30 points), submit a letter to the editor (200 points) and so on.
But no one has hit on the right formula yet.
Herrick then began riffing on an fascinating idea: Why not reward contributors so that whenever they post a wiki article, it directly benefits a person on the other side of the globe?
Jack said he's been mulling some different approaches to that general idea and hopes to have a formula in place by the end of the year. (We discussed some specific ideas, but he asked me to withhold them for now.)
"How do you get that warm and fuzzy feeling?" he said. "That's what it's all about."
I think he's on to something important here. It's my sense that the majority of contributors to sites like Wikipedia, wikiHow and others are motivated not by ego but by wanting to perform good works. But that social good is somewhat ethereal, remote and undifferentiated. Today it's about the head, not the heart.
If Jack is right — and I think he is — wikis and social enterprises should begin aiming for the heart. If he pulls it off, wikiHow will tap into one of the greatest motivating factors of all: helping another person — a targeted, specific, flesh-and-blood person — in a real and profound way. JD Lasica, founder and former editor of Socialbrite, is co-founder of Cruiseable. Contact JD or follow him on Twitter or Google Plus.


This work is licensed under a Creative Commons Attribution 3.0 Unported.