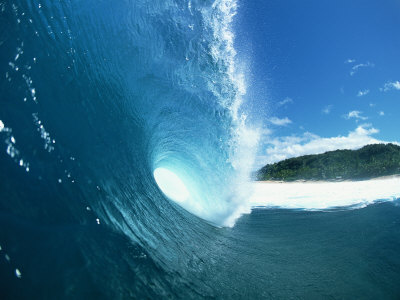 This is part of the series 31 Day Challenge To Optimize Your Blog With Social Media.

With more than 350 million members, Facebook is the largest social networks on the planet. Here are some steps to get more traffic to your Facebook pages.
How to get traffic with a Facebook Page
Facebook Pages are built so that various types of organizations can build a presence within Facebook. You can create custom tabs, message fans and build community with a variety of tools.
Below are a few examples of strategies and tactics you can use to create more blog traffic with a Facebook Page:
Notes application – This application allows you to automatically import an RSS feed from your blog onto your Page. This way, when you publish a blog post, it gets published instantly on your Wall tab. If you're not sure how to import your feed, watch this video tutorial. If you have multiple RSS feeds that you'd like to import, read this post about importing multiple blog feeds.

Networked blogs – This application serves a similar purpose to the Notes Application, but with the added benefit of creating a community around your blog by allowing readers of your blog. The NetworkedBlogs application supports multiple blogs. To add your blog to NetworkedBlogs, click here.
Static FBML – This application gives you limitless ability to create custom Facebook Page tabs that link to various parts of your website. For example, you could create a tab called "Must Read" with links to your blog's most visited pages. (Note: In tomorrow's post, you'll learn how to use Static FBML to create an incentive for Facebook users to "become a fan" of your Page.
Clicky click – There are many ways, both in your fan updates and posts, that you can increase the likelihood of fans visiting a particular page on your blog. Smashing Magazine has an excellent article on creating Read More links.
Interactive sidebar – In addition to tabs, you can create an interactive sidebar, so that fans can easily find their way to your most important content – within your Facebook Page or within your blog.
Email subscription forms – Email subscription forms can be placed within tabs using the Static FBML application.
Fanbox – Facebook Pages give you the ability to create a Fanbox for your blog. This way, when a Facebook user visits your blog, in one click they can become a fan. But how can this create traffic back to your blog? The person who fans your Facebook Page from your blog is already a reader of your blog, and will be more likely to share updates from your Page with their Facebook friends.
Show and tell – Don't be afraid to ask fans to share updates and blog posts with their Facebook friends. Heck, even show them if you have to!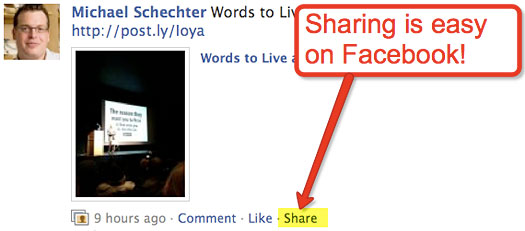 Strategy is key
Keep in mind that just because you get more fans and traffic does not mean you'll get more business. Spend time creating a compelling experience for fans and visitors so that they'll be more likely to return. And as this graph by Chris Garrett shows, fans go on a journey with you before they spend money: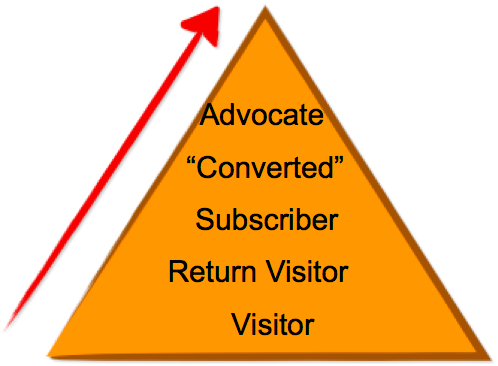 How to grow your Facebook Page
It would be great if your Facebook Page automatically did the work for you. But unfortunately, you can't just "set it and forget it." As the above graph illustrates, Facebook users are human beings with impossibly complex reasons for how they choose to engage with your organization.
To help you formulate an effective strategy, start with these questions:
How can we create content that is compelling enough to share? What barriers to sharing have we unknowingly created?
What is the easiest way for potential fans to connect with us? SMS? Twitter?
Which pages on our blog would create the most value for our fans?
What small commitment do prospects make with our organization before they buy? Do they sign up for a webinar or email newsletter? Do they sign a petition or take a survey?
How can we use Facebook Ads to promote our Page instead of selling our stuff?
Also read:
• How to build a Facebook community (14 "levers" you need to be pulling)
• Why Merriam-Webster Should Make "Social Media" A Verb (or Advanced Facebooking For Stunt Doubles).
If you don't want to miss out on the 31 Day Challenge To Optimize Your Blog With Social Media, please sign up.
Cross-posted from JohnHaydon.com.John Haydon delivers social web strategy solutions for "the quick, the smart, and the slightly manic." Curious? Then visit the John Haydon blog, follow him on Twitter or leave a comment.

This work is licensed under a Creative Commons Attribution-NonCommercial 3.0 Unported.