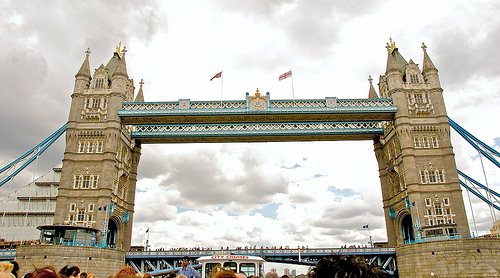 This is part of the series the 31 Day Challenge To Optimize Your Blog With Social Media.
Guest post by Chris Garrett
chrisg.com
Many people find networking to be challenging. Being an introvert, real world networking is particularly daunting for me, but my geeky side allows me to use social media to be a much more effective networker.
As I try to impress upon my Authority Blogger Course clients, networking is crucial for business and bloggers alike, even the most shy among us. From getting links through to reviews, we need the help of other people to get ahead.
You can't do this at cocktail parties
When networking online you do not have the problem of walking into a room and introducing yourself. Unlike in a cocktail party or professional networking event, it is OK to just jump into the conversation provided you have something valuable to add — in fact, it's kind of expected. Also if someone is becoming a nuisance, it is much easier online to ignore them!
The part I love most about networking online, though, is that you can reach more people, more often, and you do not need to hop on a plane (living in the UK, thousands of miles from the industry networking events, this is a particularly useful benefit!).
Social media is not just a more efficient way of networking, and it is not just a way to avoid some of the less appealing parts of networking that you experience in the face to face world. It can in fact allow you to reach people who would be normally way out of reach.
People have fewer barriers in the way online, the normal gatekeepers (as yet) do not block you from reaching out via Twitter and some of the other social tools. This might well change, but right now we have direct access to celebrities, CEOs, and other influential people. You can also get access to not just individuals but whole groups that you would normally find impenetrable.
Just because you can reach out to these folks doesn't necessarily mean you should. At least, not right away.
Social media steppingstones
The smart way to reach both highly prized individual contacts and groups that you want to get in front of is by using a stepping stone approach. Rather than leap from one stranger to the next in the hope that one will "bite," instead bridge from an existing associate and make a more friendly contact.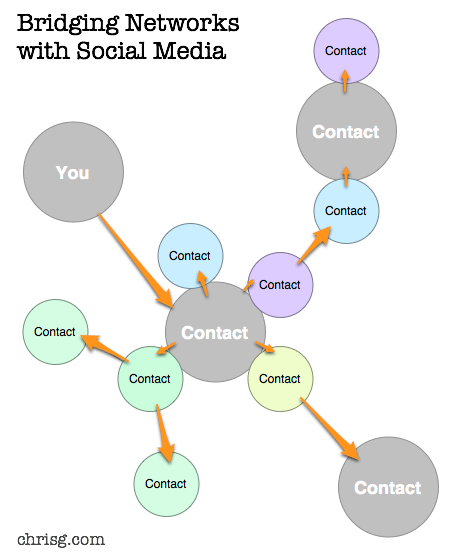 Social media is, as the name suggests, social. This means you can interact in a low pressure, non-salesy way. Just make yourself known as part of the natural conversation, or get introduced by your mutual friend. Doing this allows you to go to new groups and even companies, as you make new contacts and gain new introductions.
Using the "listening" aspect of social media also allows you to prepare to introduce yourself to these new contacts. I have a terrible memory so in the past have taken to using a networking contact spreadsheet to collate information about the interests and needs of the people I work with and meet.
Find ways your skills, assets or knowledge overlap with their needs to make yourself a valuable person to know. Become useful and interesting enough to know, and these introductions will form without your prompting.
How have you found social media has worked with your own networking? Please share in the comments.
If you don't want to miss out on the 31 Day Challenge To Optimize Your Blog With Social Media, please sign up.