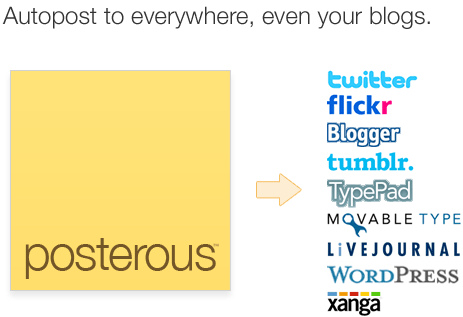 This is part of the series the 31 Day Challenge To Optimize Your Blog With Social Media.

The other day we spoke about managing time on social media. One way to manage time is to batch tasks together. But even with this approach, it still gets crazy-making when you have to go from Flickr to WordPress to Facebook and back toTwitter.
What if you could cut down on the number of social media sites that you're posting content to? Posterous allows you to do just that – entirely by email.
Distribute content by pushing "send"
Posterous has broken down barriers to blogging by allowing users to post various types of content via email. Video, photos, videos and text are automatically formatted by Posterous. This allows you to automatically display short videos and audio files in their very own media player.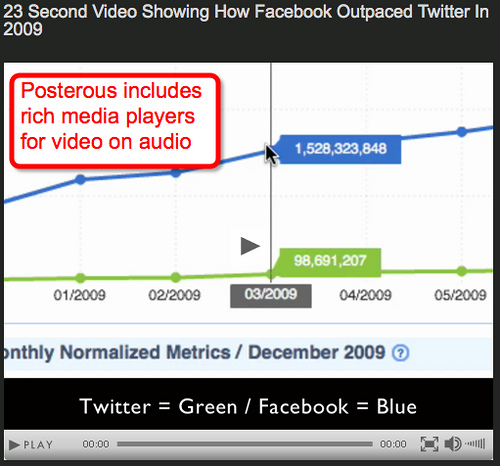 Target your sneeze
With Posterous, you can also repost to specific sites by tweaking the "send to" email:
Tagging by email
Tagging blog content increases utilization by allowing visitors to quickly find related items. For example, on my posterous blog, I talk a lot about being a dad. Interested readers can simply click "Fatherhood" to find related content. And I create these tags by including ((tags: tagname)) after the subject line (title). Read more about email tips in the Posterous FAQ.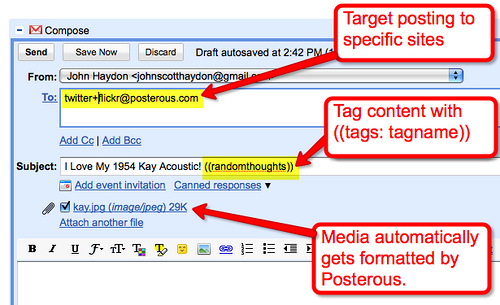 Strategic sneezing
This is the killer benefit of Posterous. Once you set up an account, you can set up all your social media sites to "autopost" what you send to Posterous. So far, Posterous supports:
Facebook

Twitter

Flickr

Picasa

YouTube

Vimeo

Tumblr

Blogger

WordPress
Cross-posted from JohnHaydon.com.John Haydon delivers social web strategy solutions for "the quick, the smart, and the slightly manic." Curious? Then visit the John Haydon blog, follow him on Twitter or leave a comment.

This work is licensed under a Creative Commons Attribution-NonCommercial 3.0 Unported.