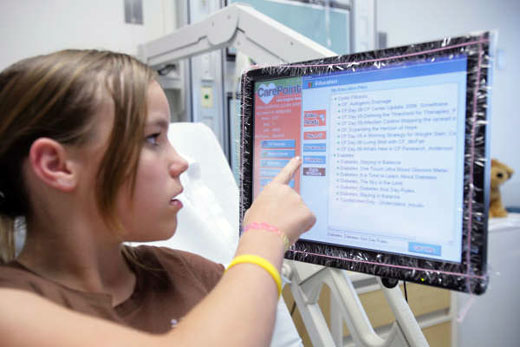 At the Arkansas Children's Hospital, one of thousands of causes on Causes.com.
Campaigns, timely updates, passionate supporters add up to move the needle
By Kim Bale
Socialbrite staff
Lots of nonprofits and social change organizations have used Causes (formerly Facebook Causes) to raise funds and amplify their efforts, but the vast majority of them haven't moved the needle much. So we set out to discover: What makes a successful campaign on Causes?
Each week, people donate hundreds of thousands of dollars on Causes. But participating organizations often have goals beyond raising funds: Many are trying to recruit new supporters, raise awareness about issues, enlist people to attend events and so on. Organizations using Causes, a small unit within Facebook, often use Facebook apps and the viral power of friends of friends to generate attention in a way not possible in the days of stand-alone destination websites.
The really remarkable stories on Causes, though, involve the individual activists — not the nonprofits themselves — who launch a cause and generate interest in some of today's most pressing issues. Some causes grow in membership by word of mouth, while others are part of a planned outreach campaign. Large or small, each cause showcases its top recruiters, donors and fundraisers in its Hall of Fame, prompting more people to participate.
While Causes has not lived up to everyone's lofty expectations as a money machine, even small-scale causes — like the $3,400 donated to help wildlife hurt by the BP oil spill — can add up to make a difference.
There are many elements to creating a successful cause campaign — frequent updates, active supporters, playing off news headlines and joining larger fundraising efforts are four key factors — and lots of ways to measure success. Here are 10 of the best efforts we've seen on Causes. Have your own favorite? Add it in the comments below!

The Race To End Cancer
1With nearly 6 million members, The Race to End Cancer is the largest Facebook cause and has raised $74,105 for the Arkansas Children's Hospital. Started by 19-year-old Michelle Miles, the cause has become enormously successful as members recruit their friends in hopes of raising money and growing it to the next level. Incentives such as competing in America's Giving Challenge (Causes is one of three sponsors) and helping the hospital win a playroom makeover sponsored by Xbox keep members donating and recruiting friends. Other successful cancer campaigns include Campaign for Cancer Prevention and Susan G. Komen for the Cure, among many others.
Related articles by Zemanta
Kim Bale was recently the community outreach specialist for The Extraordinaries. Follow her on Twitter at @balekimb.