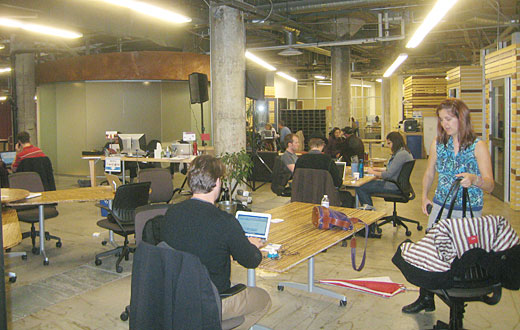 San Francisco has a new co-working space for "radical collaboration": The Hub SoMa.
There is poetry here: The Hub SoMa is located on the revamped first floor of the Chronicle building at Fifth and Mission. While one institution falters, another is born as a collaborative incubation space for new social enterprises. The 8,600-square-foot space, dubbed a Social Innovation Complex, will feature art exhibits, offices and large event spaces for members.
I already paid a visit to the Hub SoMa last week for a presentation by Reporters Without Borders, the international press freedom organization. Hub SoMa is a gorgeous space, one where entrepreneurs of all stripes can come together, compare notes and move forward where interests coincide. Two of the new tenants there include Intersection for the Arts and TechShop.
Thursday night is Hub SoMa's Launch party — get your tickets for $10. 350 people have signed up so far. I'll try to make it.
The vision is for Hub SoMa to be a global coalition of designers, educators and business leaders driving impact — a place where change-makers find the people, ideas and tools they need to build solutions for change. It's a stirring vision and they're off to a good start.
San Francisco already has great co-working locations in Citizen Space and PariSoMa, and The Hub has other co-location spaces in the East Bay and around the world. But this is truly one to behold. More details on Eventbrite.
JD Lasica, founder and former editor of Socialbrite, is co-founder of Cruiseable. Contact JD or follow him on Twitter or Google Plus.


This work is licensed under a Creative Commons Attribution 3.0 Unported.