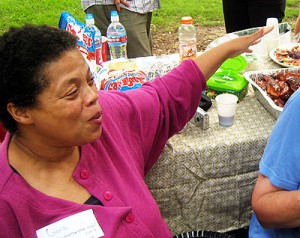 Gena Haskett
Tell visual stories by weaving together photos and sound
Target audience: Nonprofits, citizen publishers, journalists, educators, social change organizations. This is part of our ongoing series designed to help nonprofits and other organizations learn how to use and create media.

If you run a small nonprofit but don't have a video camera on hand, you can still tell your story — videoblogging or digital storytelling does not have to be high tech or expensive. To tell a visual story, Gena Haskett, who videoblogs at Out on the Stoop, uses a program called Windows Photo Story 3 to assemble the selected photographs, animate them and add music.
She then saves it in the Windows Media Video (WMV) format and uses another program, Ashampoo Movie Shrink & Burn ($40), to create a QuickTime video version.
Mac users can perform the same tasks by importing photos and music or voiceover audio files into the Apple operating system's built-in iMovie feature.
"Keep it simple," Haskett advises. "Don't let a lack of a camcorder keep you from documenting your world. Get out the house. Take the picture. Tell the story."
JD Lasica, founder and former editor of Socialbrite, is co-founder of Cruiseable. Contact JD or follow him on Twitter or Google Plus.

This work is licensed under a Creative Commons Attribution 3.0 Unported.