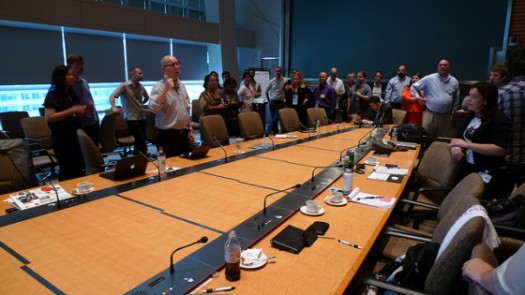 CrisisCongress photo courtesy of Taylor Davidson on Flickr.

Back in January, when the earthquake hit Haiti, I felt like I do in all catastrophic disasters. Sick to my stomach over the human suffering.
As I've grown into my activist and humanitarian roles, technology has helped me find a place where I feel like I belong in the response through technology and by using our voices. Our voices online have the ability to multiply and make a bigger impact. Using your voice on the Internet (and this could be Facebook or your own blog) is a way of standing up for what you believe, asking questions and seeking answers.
That's what happened to me in January. The earthquake took place and I turned to the Internet to see what the response would be. I had heard of Transparency Camps happening last summer, but only pieces, as I had been in the Philippines on my Kiva Fellowship. I had heard more about CrisisCommons from friends like Alex Rose and Chad Catacchio, and with my incessant need for information learned more about the camps. I started to see them pop up around the country and people were reaching out to me, since I now lived in New Orleans, asking to connect with people who had been instrumental in the response for Hurricane Katrina in 2005 and wondering when there would be a CrisisCamp in New Orleans.
From the bottom of my cause-filled activist heart, you could say this is how I was roped in to creating CrisisCampNOLA.
I was helped by Robert Fogarty, who himself has a nonprofit focused on evacuation techniques called Evacuteer.org, and by Barrett Conrad, who leads up a monthly developer event in New Orleans and could tap into those networks to get developers to attend.
So I had Alex and Chad rooting me on, and Robert and Barrett partnering and helping shoulder the load, and the local New Orleans community donating space (LaunchPadNOLA), food (Naked Pizza) and press/promotion (New Orleans Tech) and all of the pieces were coming together. But more than all of that, all CrisisCamps would be remiss not to mention Heather Blanchard. Heather's passion for creating CrisisCamp and moving CrisisCommons into a viable entity were never far off from the overall goal of having a successful campaign.
We held CrisisCampNOLA, we invited local Haitians to come and tell their stories, and we built a local response and also helped on the national scale. It was, by all means, a success. Through the type of connections that we make online in this day and age (which makes me feel so old for saying this way but it's true), Heather and I stayed in touch. In fact, we put together a CrisisCamp dinner during SXSW and we also put together a panel during SXSW about CrisisCamp. We talked many times after about how to move forward and then the oil spill happened.
That awful oil spill. God, it makes me so angry and sad and frustrated and wondering what I could do to help. But to "help" I mean, we couldn't clean the beaches and the catastrophe was so severe. Again, there was Heather heading up a oil spill reporter app to help people create visuals of where the spill had hit and working with the technical resources at her disposal around the country to make an impact.
This leads me to two weeks ago when CrisisCommons held its first International Crisis Congress. City leads from around the world came together to meet in person (most for the first time) and talk about the future of CrisisCommons. Held in Washington DC on July 16 at the World Bank and travel grants given by the Alfred P. Sloan Foundation, we all gathered for a full day of workshops. The mediator, Allen Gunn, for the day was the best I've ever seen. He kept us moving, laughing, engaged and thoughtful. We got up out of our seats and we interacted and asked the hard, tough questions necessary to build and grown CrisisCommons.
Would we be more open? Would we have more rules and legal protection or less? Where are we looking to go in a year or five years from now? We spared nothing to analyze those questions.
Coming together for a unified cause
In the group, besides city leads, were professors in emergency preparedness, social innovators, marketers and GIS professionals all bringing their perspectives to the table.
I walked away with a case of the "wow" at the talent that came together for a unified cause. We could have hit a dent in a "virtual conference" but to attend in person we accomplished much more than I ever would have fathomed.
I'd like to extend my sincere thank you and ever-admiration to Heather Blanchard for being the visionary around CrisisCommons. I'm honored to represent New Orleans, and truly moved to be part of the process and be able to flex my own creative muscles into being part of the vision moving forward.
I'm always looking for more passionate and talented people to help grow CrisisCampNOLA and if this is you, please send me an email to [email protected].
I'd also love to find a way to get training to be able to be a first-responder of some kind for future emergencies around the world. World Vision has people who jump in to assess the needs of an area (like a project manager) and other direct response agencies have people they train in mental health services to go in immediately and help people on the ground. I'm looking to combine my online experiences with real offline field work, so if you know anywhere I should look, I'm all ears.
Until then, I'll continue to search and seek out ways to help with disasters around the world through my contributions with CrisisCommons. I'm so happy to have found a place where I belong and where I can contribute to those in need during crisis.
Further reading
Cross-posted from The Causemopolitan. Sloane Berrent is a cause-based marketing consultant who works with nonprofits and social cause organizations. See her business profile, contact Sloane or leave a comment.

This work is licensed under a Creative Commons Attribution-NonCommercial 3.0 Unported.