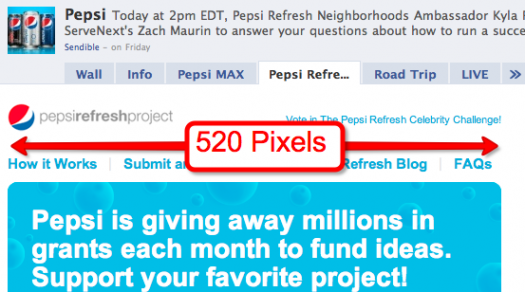 For months now, Facebook has been saying they were going to be removing the boxes tab and setting a limit to the width of custom tabs on Facebook Pages.
On Friday they finally put a date to those changes: During the week of Aug. 23 (or sooner).
Details on the changes to Facebook Pages
So what do these changes mean and how do they impact your organization?
No more boxes tab
First, the boxes tab across the top of your Page will disappear. This is a welcome change for most Facebook admins because, for the most part, the boxes tab was nothing more than a place to throw leftover crap. Kind of like the college dorm closet with all the dirty togo sheets.
Custom tab width limits
This change will have an impact on every organization that has created a custom tab with a width greater than 520 pixels. Facebook Page admins will have to go into the FBML / HTML code within the Static FBML application and tweak the code for a 520 pixel width limit. In many cases only images will have to be resized to fit the new dimensions. In other cases, more code tweaking will be required. (See image at top.)

Facebook will allow you to preview your custom tabs in the new 520 pixel width so you can modify as needed.
Why were these changes made?
These two changes are meant to simplify the navigation of Pages, make life easier for app developers, and enable Facebook to build the next generation of tools for growing your business with Facebook.
So what do you think? Please add your comment below.John Haydon delivers social web strategy solutions for "the quick, the smart, and the slightly manic." Curious? Then visit the John Haydon blog, follow him on Twitter or leave a comment.

This work is licensed under a Creative Commons Attribution-NonCommercial 3.0 Unported.