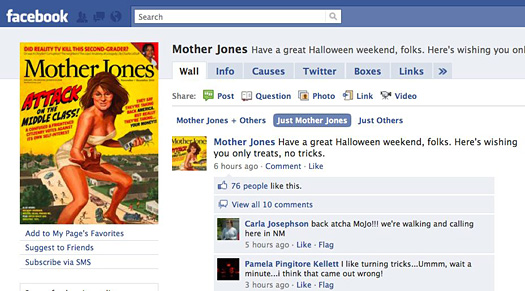 The Mother Jones Facebook Page
Target audience: Nonprofits, NGOs, cause organizations, businesses

Afew weeks ago I published Essential tips for updating your Facebook Page, which mentioned tagging Pages as a Page. The following tactic was mentioned, but because so many people ask about it, I thought I'd call it out on its own.
A warning for those who update Pages: The best way to use this tactic is to be trusted by that community or selflessly praise that community.
People like Pages — Pages don't like Pages
Facebook assumes that people like brands and organizations but Pages don't. (This makes sense, doesn't it?) So if you are logged in as the administrator of a Page, like the nonprofit Mother Jones Facebook Page (above), and go to the Free Speech TV Page and post a comment or post to its Wall, it will show the Page icon and name of the chief administrator of the Page, not the name of the organization. A better choice is to tag (see below).
What businesses do is cross-promote each other through partnership and collaboration. On Facebook, this is expressed as Pages tagging each other.
How to tag another Page from your Page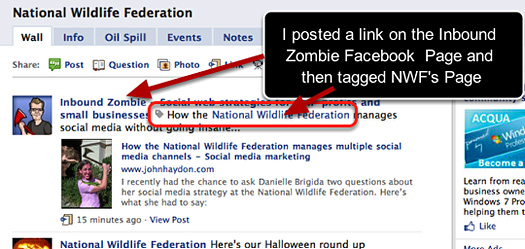 You can promote your Page on another Page simply by tagging that Page (assuming you've liked the Page) in a status update on your Page. You do this simply by typing the "@" sign following by the name of the Page you want to tag.
Make sense? Was this helpful?
Cross-posted to JohnHaydon.com.John Haydon delivers social web strategy solutions for "the quick, the smart, and the slightly manic." Curious? Then visit the John Haydon blog, follow him on Twitter or leave a comment.

This work is licensed under a Creative Commons Attribution-NonCommercial 3.0 Unported.