The Facebook Like Box is one of the most powerful social plug-ins that a nonprofit — or any organization — can use.
Here's what it looks like (at right).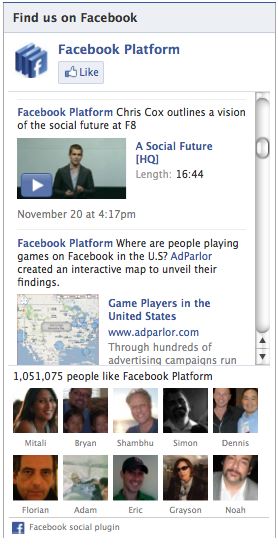 Creating one is simple, so you should spend the 10 minutes it takes to customize one for your organization's needs. In the 2-minute video above, I show you how.
The benefits? The Facebook developers site says this :
The Like Box is a social plugin that enables Facebook Page owners to attract and gain Likes from their own website. The Like Box enables users to:
• See how many users already like this page, and which of their friends like it too
• Read recent posts from the page
• Like the page with one click, without needing to visit the page
Unlike the Like button, the Like Box is meant to be a standing element on your website or blog.
Do you use one? Is it doing the job?
Cross-posted to JohnHaydon.com.John Haydon delivers social web strategy solutions for "the quick, the smart, and the slightly manic." Curious? Then visit the John Haydon blog, follow him on Twitter or leave a comment.

This work is licensed under a Creative Commons Attribution-NonCommercial-ShareAlike 3.0 Unported.