Sunday on "60 Minutes," founder Mark Zuckerberg introduced Facebook's new and enhanced profiles for its approximately 600 million members.
Here is a look at the changes and what they will mean for you. Note: Most Facebook members don't have the new profile update yet. It hasn't been pushed out to users, but you can get it if you'd like by visiting the Facebook site detailing the updates about the new profile and clicking the button. Be warned, however, that once you make the switch you can't switch back.
Who you are and what you like are king

What you do for work, where you went to school, where you grew up, recent photos you were tagged in – all these are now located at the very top of your profile, where the tabs used to be.
Everything else that use to be in the "Info" tab is also listed by section on your profile's home page:
Philosophy
Arts and Entertainment – Pages you've liked
Activities and Interests – Community Pages you've liked
Basic info and contact info is also on your home page, but way down at the bottom.
Tabs are now located in a left-hand sidebar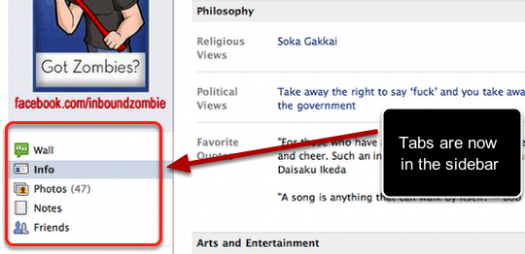 Tabs were taking up valuable real estate on the top of profiles, so Facebook moved them to the sidebar. This means that you'll have to take an extra step if you want to find out what your friend is up to lately.
Likes and Interests are now more defined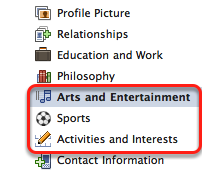 Previously when you were editing your profile, you'd see a section called Likes and Interests." This is where you'd see different categories of Pages you liked on Facebook.
Now, when you go to edit your Profile, you'll see "Arts and Entertainment" and "Sports." Sports allows you to pick your favorite team and your favorite player.
Finally, you'll see "Activity and Interests." This is where you'll find various Community Pages (different from an official Page).
Will the Official Page for your nonprofit, business or organization look like the new Profiles? My belief is yes. Facebook Page design has always followed Profile design.
What this means for Facebook
Many of these changes will benefits Facebook's advertisers, because when you like a Page (or content on that Page) all your friends are exposed to that Page in their news stream. Expanding user networks — made easier by highlighting what a user "likes" — also expands potential reach for businesses on Facebook.
Finally, the addition of Sports and its focus on having users pick a single team and a single player suggests that Facebook will most likely launch a new sports marketing effort – big, big money.
Do you like the new Profile pages? Comment below.
Cross-posted from JohnHaydon.com.

Related articles
John Haydon delivers social web strategy solutions for "the quick, the smart, and the slightly manic." Curious? Then visit the John Haydon blog, follow him on Twitter or leave a comment.

This work is licensed under a Creative Commons Attribution-NonCommercial 3.0 Unported.