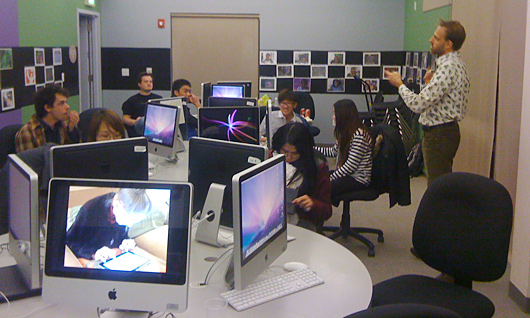 One Economy, SF Goodwill, SF Dept. of Tech, Code for America & Socialbrite team up to develop mobile apps for social good

Save the date! On May 6 and 7, several public-spirited organizations — One Economy, San Francisco Goodwill Industries, Code for America, Socialbrite as well as the City of San Francisco's Department of Technology — are coming together to put on a Community Code-a-thon.
With the Where 2.0 mobile technology conference taking place down the road in Santa Clara, Calif., this week (I attended yesterday and will return tomorrow), it's a good reminder that the best mobile applications fill a gap in the marketplace.
A code-a-thon is where local developers come together and spend the day hacking on different ideas that could be teased out into a full-fledged mobile application. Unlike some other code-a-thons you may have heard of, this one is all about creating public-purpose mobile apps that improve the lives of people in the community.
To see an example of how this works, take a look at the top apps that emerged from the hack-a-thon held in Washington, D.C. this past Saturday.
Doing most of the heavy lifting for this effort is Arthur Grau, the tech force of nature who's behind nonprofit One Economy's Applications for Good. The Bay Area gathering offers $1,000 in prizes to the winners.
Code-a-thon: Have geek credentials? You're invited
Here are the details:
When: May 6, a Friday, pitch session and social mixer, 3-5 pm; May 7, a Saturday, offers a full day of coding, ending with judging and announcement of winners.
Where: SF Department of Technology, 1 S. Van Ness Ave.
Who: The Code-a-thon is open to all community-minded programmers. A few case studies will be shared in advance to inspire the developers with examples of how mobile apps could be made available to community organizations and nonprofits
Cost to participate: Free. Register on Eventbrite and see the full Agenda. Food and snacks will be made available.
Organizers: One Economy, Goodwill Industries of San Francisco, San Mateo & Marin Counties, Code for America, Socialbrite and the San Francisco Department of Technology. The daylong, developer-meets-community code event supports Applications for Good, One Economy's national contest, launched in early 2011, where developers design public purpose mobile applications to help underserved Americans improve their lives. For this event, Code for America is expected to bring 10-12 developers.
Prizes: The day's activities will offer seed prizes totalling $1,000 to engage developers to design and refine their work under the helpful eyes of experts in community and software development. It could lead to $50,000 in prizes to software developers who design applications that help families, find jobs, get healthy, improve education and build financial security in One Economy's national contest, which runs through May 16 and is co-sponsored by AT&T. Other details are still being firmed up.
According to a Pew Research Center report, lower income households access the Internet at higher rates on mobile phones and devices because they do not have a computer at home. Those without computers and high speed Internet in the home are disproportionately people of color. African Americans and Latinos, with 87% owning smart or feature phones, are more likely to take advantage of a wide array of phone data functions.
Check out the Applications for Good website to see a rich best-of-apps catalog, needs and solutions pages.
JD Lasica, founder and former editor of Socialbrite, is co-founder of Cruiseable. Contact JD or follow him on Twitter or Google Plus.


This work is licensed under a Creative Commons Attribution 3.0 Unported.