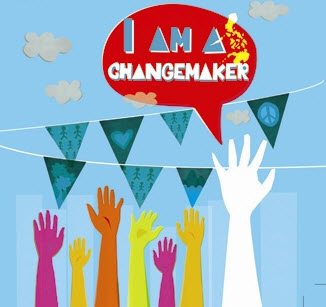 How to use your talents for greater purpose, positive impact & lasting satisfaction
Guest post by Lorna Li
Founder & Editor-in-Chief, Green Marketing TV & Entrepreneurs for a Change

I recently received a review copy of the book Work on Purpose by Lara Galinsky and Kelly Nuxoll of Echoing Green, an organization that provides seed funding to social entrepreneurs. "Work on Purpose" profiles the lives of five social entrepreneurs and how each one of them arrived at founding organizations that leverage their unique skills and experience for a greater good.
Take a step back, reassess, and ask yourself, what do you hope to accomplish next, and what will it take to get there?
I also just received a review copy of Nonprofit Management 101 from Darian Heyman, former executive director of Craigslist Foundation.  At 672 pages, it's a veritable tome of wisdom and advice from such change-making luminaries as Paul Hawkin, Van Jones, Beth Kanter, Craig Newmark, and Lynn Twist, to name a few. But Kimberly Hendler's section "Taking Charge of Your Nonprofit Sector Career" really spoke to the brazen careerist in me.
All this juicy reading has gotten me thinking a lot about what it takes to develop an exciting career in the social change sector — not just a job but a career that leverages your unique genius for a greater purpose, with excitement, adventure, positive impact and lasting satisfaction.
Chances are, if you're reading this blog, you are committed to having work that has meaning. If you're a careerist like me, every job is a steppingstone toward "awesome career," every project completed is a new feather in your cap, and you are always on the lookout for the next best opportunity.
Tips on how to align your career with your passions
So here are some tips on taking charge of your career, so that the next best job, project, and person you meet contributes to the development of your exhilarating career as a high-impact change maker.
1Know thyself. This is the most important part of designing your optimal change-making career path. Knowing yourself involves self knowledge on several fronts: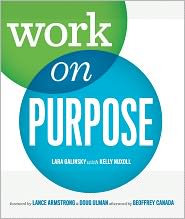 Skills. You need to take an inventory of your skills, projects and expertise. What is your unique genius? What marketable skills do you have? Will the job let you make a unique, valuable, contribution? Will it allow you to build upon your existing skills? What successful projects have you worked on that would compel future employers? What expertise do you have? What software programs do you know? If you are angling for a fundraising job, your previous experience with a company like Vertical Response may come handy.
Personality. Are you outgoing and social? Or quiet and analytical? Do you crave freedom and flexibility? Or do you prefer a 9-5 cube environment? Understanding your personality traits is the key to knowing if you will thrive in certain work environment or job position, or if you will feel constrained.
Lifestyle. What do you require to live and save for the future? Is time more important to you or money? Will the job be a step up in pay and position? Or will it be a lateral move with compelling perks? Or is it about the adventure factor and once in a lifetime opportunity to do something totally out of the box?
Goals. Where do you see yourself next year? A few years from now? At the end of your years? Are your professional choices taking you closer to those goals? If not, why, not? Is it time to make a change?
Passion. What makes your heart sing? What kinds of projects do you love? What issues do you care the most about? Do you feel alignment with your organization's mission and vision?
2Know thy neighbor. This is biblical speak for network like a pro. Networking involves knowing both people and organizations. If you have in mind to shift your career from a more lucrative position in the solar financing industry, to a more altruistic position with a solar social enterprise, you will need to familiarize yourself with the people and players in that space.
3Never stop learning. Self discovery and self development are a lifelong process. Here are four ways to develop yourself personally and professionally:
New projects and responsibilities. Take on new projects and responsibilities in your current role. This could involve asking your boss to let you assist other projects, shadowing someone in your organization who has a role you are interested in.
Volunteer and freelance. If you can handle it, take on side projects and freelance opportunities. They can be personal projects or consulting gigs. Learning while working is the best way to pick up new skills and knowledge fast, especially when the pressure is on to deliver.
Find a mentor. As you network like a pro, you will meet many people who are happy to share what they know with you. Some of those people can become your mentors, even if it is only for a short period of time. Mentorship is a key component of success. In fact, a study of Northwestern MBAs found that mentorship had a positive impact on the careers of both men and women, resulting in average compensation of over $23K more than those without.
Invest in professional development. This might mean investing in that $2,000 conference pass so you can listen to industry pundits talk about the latest trends in your sector and network with thought leaders. Or paying for the weekend Excel power user workshop. Or hiring a business coach. It's worth it.
4Tell a compelling story. I am always shocked when I meet an amazingly brilliant person doing incredibly positive things in the world and discover they haven't dominated the first page of Google results for their name. As a change maker, you owe it to the world to share your knowledge and make your presence known. That way, you can attract more exciting, challenging opportunities to be of greater service.
Here are seven easy channels you can use to tell your story:
On your personal blog
By guest blogging
By audio podcasting
On LinkedIn
On Facebook
With your personal website or blog serving as the hub, and the other social media sites as the spokes, together you create an integrated online presence that tells the story of who you are, what you are about, what you know, and how you help. If your blog evolves into an engaging community with a life of its own, you now have an audience. All these channels and activities help showcase your unique genius and build your personal brand. And that's something no one can take away from you.
It's important to leverage every job as an opportunity to grow and develop more skills. Every once in a while, take a step back, reassess, and ask yourself, what do you hope to accomplish next, and what will it take to get there? As you leap from opportunity to opportunity, pretty soon you'll find yourself looking back at a pretty remarkable track record.
What do you think?Lorna Li is an online marketing consultant who writes about home solar and green business. Follow her on Twitter at @lornali.

This work is licensed under a Creative Commons Attribution-NonCommercial 3.0 Unported.