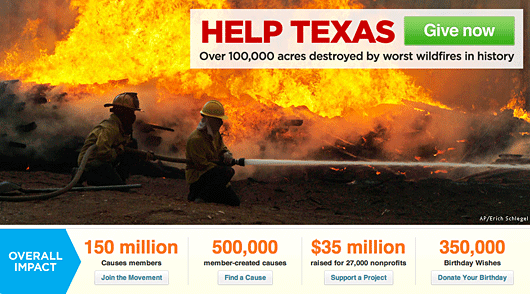 Causes, with 140 million+ users, takes it to the next level
Guest post by Joe Green
Co-founder, Causes
On Thursday Facebook announced two of the biggest product changes in its history. First, Facebook is making it easier for people to share the action they take on Causes and get their friends involved in real time. Second, Facebook is launching Timeline, which will allow people to curate all of the information on their profiles to better share the moments in life that matter most.
Because taking action and then sharing it with friends is the core of what people do on Causes, we think that these changes will have profoundly positive effects on people trying to help the world by using Causes.
Causes was founded with the mission of empowering anyone to change the world. Our model is based upon the belief that everyone has the power to have an outsize impact on the world by banding together with other like-minded individuals, taking direct action, and inspiring their friends and their friends' friends to join in. In short, we provide the grassroots with organizing tools for creating large-scale collective action.
We could not have launched Causes without Facebook Platform, providing real identity and real friends. Facebook Platform was created so that experiences that are inherently social in our offline lives could be brought online as an authentic expression of who we are; Facebook did this best in revolutionizing photo sharing.
Altruism is one of the most fundamentally social impulses, and doing things for others without expecting anything in return is core to what makes us human. This is why from the day Facebook Platform launched in 2007, Causes has been honored to be one of the most popular applications, with over 140 million users.
Timeline + new Causes profiles = a townsquare of giving
One of the most popular features we included in the launch of Causes was the ability for Facebook users to feature their favorite Causes on their profile. With Facebook updates over time, those featured boxes were removed, leading to the greatest user uproar in our history. Our users' reactions demonstrated that people feel that their causes represent an integral part of their identity, and that we need to make it as easy as possible for them to express that.
Since then, we have worked with Facebook to once again empower our users to make their causes a core part of their Facebook profile, which is now an even more expressive and powerful tool called "Timeline." Your timeline will include "reports" that roll up all of a user's activity through a given application in a comprehensive report of what he or she has done. This change, combined with our newly re-launched Causes profiles, provides people a central public place to organize and promote all of their giving.
Until now, Facebook profiles have been dominated by recent information, such as a friend's posts on your wall, or relatively static information, such as your hometown), but Timeline now offers an important middle ground for people to feature and curate lower frequency, but highly meaningful information that changes and builds over time.
My mom, for example, can join the Arts in Education cause, which supports her favorite nonprofit, choose it to be her featured cause, recruit friends to join it, and donate. Currently, all of these actions can be published to my mom's friends in real time, but there is not a good way for her to showcase this cause and the work she has done to support it on her profile, which ideally should be the most complete representation of who she is. The reality is that my mom's involvement with the Arts cause may be less frequent than playing a game on Facebook, but she may care more deeply about the Arts organization and its mission.
Frequency and recency don't necessarily correlate with quality or "coreness" with respect to her personal identity. Facebook's willingness to tackle this issue and give people the power to curate their timeline to feature depth of attachment and not pure frequency of engagement is exciting for developers like Causes that power deeply meaningful social experiences.
Facebook turns your profile into a life scrapbook
From the day Facebook launched in 2004, the profile was the most critical page on the site. People used to navigate the site by surfing friends' profiles, and used their own profile as their navigational starting point. The profile mostly contained a list of interests, actively curated by the profile owner. Only with the addition of the news feed in 2006 did attention shift away from profile and toward recent activity. This shift certainly allowed Facebook to capture what someone was doing in the moment, but that information did not represent the whole of the person.
Now Facebook is making your profile into a more holistic timeline, or scrapbook, of your life. This will enable a new class of applications focused on helping people express themselves to emerge and revolutionize existing industries and experiences. We are grateful at Causes to be in a position to lead this sea change in the way people give and get involved in social change and will continue build a platform that empowers anyone to make a difference by taking action with their friends.
Look out for new ways to integrate Causes into your online identity and check out this piece in TechCrunch for a first look at the Facebook Timeline.
Joe Green
is co-founder and president of
Causes
.